A World in Reach contains affiliate links. If you make a purchase through these links, I may receive a commission at no cost to you! Read my full disclosure here.
Ready to travel through North, Central, and South America on a budget? Keep reading for reviews on the best hostels throughout the Americas!
---
If you're planning a budget-friendly trip to one of the countries in North, Central, or South America, staying in hostels is a great (and fun!) way to keep your lodging costs low. In Central and South America, where accommodation tends to be on the cheaper side, you can find luxurious beach lodge hostels for a fraction of the cost of a basic hotel room. On the other hand, in more expensive countries like the United States and Canada, staying in hostels can help you save money on your accommodation so that you have room in your budget for other expenses like exciting activities.
To help find the perfect hostel for your trip, I've put together this ultimate guide to some of the best hostels in North, Central, and South America. From hostels with city views to peaceful beach lodges, this guide has reviews on some of the most incredible hostels throughout the Americas that are perfect for every travel style. Ready to party and make new friends while backpacking in South America? Great, there's a hostel here for you! Prefer to relax in a more chill hostel on a beach somewhere in Central America? That's fine too – there are hostels here for you as well!
Ready to start planning your hostel stay? Keep reading for reviews of some of the most incredible hostels in North, Central, and South America (and don't forget to bring along these hostel essentials)! Hint: Use the handy Table of Contents to jump to your destination – countries are in alphabetical order!
A quick note: all prices mentioned are accurate at the time of posting.
A World in Reach contains affiliate links. If you make a purchase through these links, I may receive a commission at no cost to you! Read my full disclosure here.
Best Hostels in Argentina
Bariloche, Argentina – Tangoinn Downtown Bariloche
Recommended by Or Amir from My Path in the World
If you're looking for a laid-back hostel in Bariloche that feels more like a mid-range accommodation and has a great inviting vibe, Tangoinn Downtown is a perfect choice. Not only is it located only a few minutes walk away from the main street but also offers both private and shared rooms, which are all clean, comfortable, and have a private shower and bathroom.
The hostel has a spa area with a jacuzzi, a barbeque area, and a lounge with a pool table, TV, board games, and more. A free (and very good) breakfast is also included in the price, which is another big plus.
Best Hostels in Brazil
Pipa, Brazil – La Serena Hostel
Recommended by Mario from Rest & Recuperation
Pipa is one of the most famous backpacker and party destinations in Brazil and it has many hostels that reflect this vibe. My favorite is La Serena Hostel because it is great for making friends, but it also has a very relaxed atmosphere where you can relax a bit before or after experiencing the party scene of Pipa.
The dorm on the top floor is spacious and breezy, so it is a very good choice. If you are a couple, try one of the double rooms that come with a private bathroom and a small balcony with a hammock to relax even more after a day at one of the most famous beaches of north-eastern Brazil.
Best Hostels in Canada
Ottawa, Ontario – HI Ottawa Jail Hostel
Recommended by Katherine Fenech from Bright Lights of America
Have you ever wanted to stay the night in a historic building with a spooky history? The HI Ottawa Jail Hostel in Canada's capital city ticks both those boxes and more!
As you've probably guessed, the hostel used to be a jail, and is now an Ontario Heritage Building with a difference. Not only will you stay in a jail cell, complete with barred doors (with privacy screens), but you can also do a tour of the hostel to find out more about its history. Find out more about the hostel here.
The jail was once home to death row inmates, those who couldn't pay debts, children convicted of crimes, and immigrants in quarantine. It's got large cooking facilities, and most of the basement floor is an eating/recreation area where you can hang out and make new friends. They also have a pub crawl!
Don't miss the opportunity to stay in this truly unique hostel!
Toronto, Ontario – Planet Traveler Hostel
Recommended by Chelsea from BRB Busy Living Life
The Planet Traveler is right in the middle of the action in Toronto, Canada. Precisely, it is located right next to the eccentric and "hippy" Kensington Market and within walking distance to the rest of the city's hot spots.
This party hostel has a very young vibe, is extremely clean, and is always full of like-minded travelers ready to explore the city together. The hostel has daily events including pub crawls, movie nights, city excursions, and karaoke nights on their rooftop patio (which has an amazing view of the city skyline).
One of the best parts about this hostel is arguably the food! Everyday a free breakfast runs from 7:00am until 1:00pm. If you're a budget-savvy traveler like myself, it pays to have breakfast and lunch in this time frame and save your money to explore Toronto.
Vancouver, British Columbia – Samesun Vancouver
Recommended by Alek ZD from 9 to 5 Voyager
Samesun Vancouver is best suited for solo travelers or small groups looking for a great location in a great city.
The Samesun Backpacker Hostel in downtown Vancouver is one of the best party hostels in Canada, standing out for its location, amenities, and events!
The ground floor of the hostel features its own bar, complete with two-story seating. At night you can drink from their selection of local beers and ciders and even participate in events like beer pong championships. You can come back in the morning to nurse your hangover with coffee and plenty of breakfast options.
One of the best things about Samesun Vancouver is the spectrum of activities you can do. I went on an incredible tour of Lynn Canyon, which included a SeaBus ride across the sound.
Located on prime real estate on Granville Street, you can walk to just about anything you could ever want. Granville Island, Gastown, and more can be easily accessed by foot or public transit.
Whistler, British Columbia – HI Whistler
Recommended by Whitney from Moon Wandering
If you are a backpacking skier, snowboarder, or professional cocoa drinker, HI Whistler from Hosteling International Canada is the place to land. Providing comfortable dorms with many sizes, small private rooms, and a bounty of amenities, HI Whistler is arguably the most affordable accommodations in this notoriously expensive ski town.
You'll find a HUGE full kitchen with ample fridge space, a tuning room to get your board ready on powder days, and the friendly staff you would expect to find in British Columbia. The hostel has a balanced social vibe with comfortable common areas, but also pod-style bunks and enforced quiet hours.
Best Hostels in Chile
Pucón, Chile – Chili Kiwi
Recommended by Joanna from The World in My Pocket
One of the best hostels I have stayed at in Chile was Chili Kiwi, in the adventurous town of Pucón. Located on the shore of the Villarica Lake and at the end of the main commercial street in Pucón, Chili Kiwi is a very laid-back hostel which offers shared accommodation in cabins, in the garden, and private rooms in tree houses. From the hostel's garden you can also see Villarica Volcano, with its almost perfect conic shape.
The standards of Chili Kiwi are high. Each cabin has two 6-bed dorms, each with their own private bathroom with great water pressure in the showers, and a shared kitchen between them, with all the amenities. The beds are made from solid wood, which make them very sturdy. The hostel also offers a large selection of tours, with a discount for its guests.
Best Hostels in Colombia
El Valle, Colombia – The Pelican House
Recommended by Lozzy from Cuppa to Copa Travels
Nestled at the end of Playa El Almejal, The Pelican House is a basic but welcoming hostel in El Valle on Colombia's Chocó coast. The owners are incredibly friendly, and while it's not a party hostel, with the lack of WiFi or phone signal in the area it's normal for backpackers to convene downstairs at night to drink chilled beers and viche – the local moonshine.
What's special about this hostel is the fact that your dorm has views of both the jungle from one glass-less window and the Pacific Ocean from the other. From June to October, it's not unheard of to see humpback whales from your bed. The hostel also has its own viewing platform built into the mountain – don't worry, there are hammocks on which to recover from the short hike!
Medellín, Colombia – Hostel Rango Boutique
Recommended by Becky from Becksplore
Hostel Rango Boutique in Medellín is one of my favorite hostels in Colombia. It is located in the El Poblado neighborhood, the safest in Medellín and the hostel is close to the metro station, a supermarket, and Parque Lleras. The hostel is rather big and it is usually booked up.
This hostel is designed beautifully, and you even get your own towel so it feels more like a hotel. The best part about it was the breakfast buffet that is included, which was the best hostel breakfast I have ever had. You can even get pancakes and scrambled eggs! While Medellín is one of the best party destinations in South America, Hostel Rango Boutique is definitely not a party hostel. However, there is a bar downstairs so if you want to go out you can meet some people and then head out to the city together.
Medellín, Colombia – Medellín Vibes Hostel
Recommended by Monica from This Rare Earth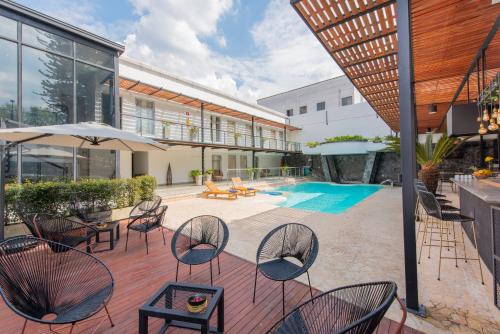 Medellín Vibes Hostel in Medellín, Colombia is one of the best hostels I have ever visited. They offer everything from super clean 8-bed dorm rooms to private hotel-style rooms, and you will find all sorts of special touches throughout – particularly in the dorm rooms. Each dorm bed is outfitted with a privacy curtain, fan, and an outlet. Once you close the curtain and turn on the fan, the outside noise is blocked out and you can sleep peacefully.
Medellín Vibes is roughly a 5-minute walk from the Poblado metro station, and the staff is eager to help you with everything from breakfast to excursions. If you need a quiet day to relax, there is a beautiful swimming pool to enjoy outdoors.
Minca, Colombia – Casas Viejas by Masaya
Recommended by Marika Devan from Clumsy Girl Travels
Casa Viejas is a hostel located in the hills of Minca, Colombia, and is one of the coolest and prettiest hostels in South America. A few perks when staying at Casa Viejas are the sweeping views of the surrounding hills, yoga every morning, a delicious breakfast selection, family-style dinner, a bonfire lit every night, and a bar serving up tasty drink concoctions.
Travelers gather in the evening to exchange stories and play games. A few activities offered by the hostel include a nature hike, bird watching, horseback riding, and you can even book a massage at the hostel on certain days.
San Bernardo Islands, Colombia – Casa en el Agua
Recommended by Julia Williams from The Cure for Curiosity
Casa en el Agua is a one-of-a-kind, must-visit eco-hostel. This unique hostel exists as its own island, surrounded by the crystal clear water of the Caribbean Sea. It can only be accessed by boat and holds just a small number of travelers at once.
You can wake up and jump directly into the ocean for a swim, spend the day busy with water sports or tours, or waste away in a hammock over the water. Then, kick it up a notch in the evening with 2-for-1 drinks, music, dancing, and more. And, since you're in the middle of the ocean, the party can go on as late as you wish! You'll never find another hostel quite like it. Make sure to check it out if you're headed to Colombia!
San Bernardo Islands, Colombia – Isla Roots Hostel
Recommended by Adam McConnaughhay from Cartagena Explorer
Isla Roots Hostel is nestled in among the mangroves of Tintipan Island, part of the San Bernardo Islands in Colombia's Caribbean.
It is a short boat ride away from some of the prettiest beaches in Colombia. At the hostel itself, there's an awesome swimming area with terrific views of the sunset over the Caribbean at the back of the hostel. Sunset drink specials are an added bonus!
It is important to keep in mind that the islands are fairly isolated and there are limited hours with electricity and running water. Food is also a bit more expensive than you'll find elsewhere in Colombia. It is a gorgeous place though, and is well worth it!
Santa Marta, Colombia – Dreamer Santa Marta
Recommended by Rosie Julin from Popcuria
The Dreamer Hostel in Santa Marta, Colombia is a great spot to relax and recharge before or after hiking the Lost City trek or exploring Tayrona National Park and the surrounding Sierra Nevada Mountains. It's got a gorgeous garden and pool area, hammocks, and outdoor bar and eating area where travelers mingle and meet new friends.
The rooms at Dreamer Santa Marta are clean, the beds are comfortable, and any noise from the pool and garden is minimized once the room door is shut. The hostel encourages a friendly ambiance so it's not a quiet hostel, but it's not a party hostel either. Most travelers staying here are pretty chill.
Best Hostels in Costa Rica
La Fortuna, Costa Rica – Selina La Fortuna
Recommended by Jessica Feemster from Jessica Inbetween
Selina La Fortuna is perfect for adventure travelers looking for a base to tour the La Fortuna area and meet other travelers. This hostel is located downtown, just a four-minute walk from the famous Parque de La Fortuna. In less than five minutes, you can walk to a supermarket and over a dozen restaurants.
This location has a room type for every budget including dorms, teepees, and private rooms. When you check in at Selina, you're given a bracelet with a unique RFID tag to open the door to your chosen accommodation to improve safety.
This hostel has a laid-back vibe and offers free amenities such as a welcome drink bonfire, library, theater room, pool, communal kitchen, and on-site parking. Paid amenities include sunrise yoga, access to the co-working space, and organized tours around the area.
San José, Costa Rica – Costa Rica Backpackers Hostel
Recommended by Eden Fite from Rock a Little Travel
Costa Rica Backpackers Hostel is the perfect place to begin your trip to Costa Rica. Located in the heart of the capital San José, you'll be close to both historical attractions and local restaurants.
Due to its convenient shuttle service from the airport, Costa Rica Backpackers Hostel is typically filled with travelers either just beginning or just ending their time in Costa Rica. This makes it the ideal place to meet new friends to travel with, or get tips and ideas from those about to return home.
Costa Rica Backpackers Hostel is a bit of a party hostel and features a bar, a pool, a large outdoor lawn with hammocks, and even an on-site restaurant. If you want to make friends or find a travel partner to explore the country with, this is the place to be.
READ MORE: A PERFECT 10-Day Costa Rica Budget Itinerary
Best Hostels in Ecuador
Isinlivi, Ecuador – Llullu Llama Mountain Lodge
Recommended by Michelle C. from Intentional Travelers
Llullu Llama Mountain Lodge is a must-stay accommodation in Ecuador on the Quilotoa Loop, a popular hiking destination around a crater lake. The hostel's cozy atmosphere, artful design, communal breakfasts and dinners (included in the price), and spectacular vistas are worth trekking to the village of Isinlivi, whether on foot or by bus.
Small private rooms, a dorm room loft, and a few semi-private units share a common indoor bathroom as well as a composting toilet and hot shower across the courtyard. Nearby are a handful of newer villas with a private bathroom and fireplace, as well as a spa. Though not really a party hostel, Llullu Llama is a wonderful place to meet interesting people.
Quito, Ecuador – The Secret Garden Hostel Quito
Recommended by Carley Rojas Avila from Home to Havana
While the rooms are nothing out of the ordinary, the real draw of at the Secret Garden Hostel in Quito is its unbeatable location in the city's historic center and its jaw-dropping view over the entire city.
The Secret Garden's massive rooftop terrace, complete with full-service restaurant and bar, offers a 180-degree view over the city's colonial churches, historic buildings, and surrounding mountains. This is an unforgettable backdrop for sharing a beer and meeting new friends and future companions for travel in Ecuador. Plus, don't miss out on the chance to book a stay at the Secret Garden's sister hostel located in Cotopaxi National Park, with an equally stunning view of mountains and Ecuador's emblematic snow-capped volcano.
Best Hostels in El Salvador
Santa Ana, El Salvador – Hostal Casa Verde
Recommended by Lara from Best Travel Gifts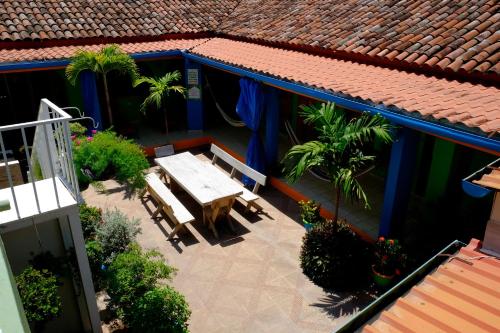 Hostal Casa Verde has been awarded as the best hostel of El Salvador numerous times and for good reasons! It has everything backpackers could only wish for in their wildest dreams: a clean and super- organized kitchen, outlets in your locker, books, DVDs, games, a swimming pool, free shuttle services, and awesome staff who will do everything they can to help you out.
El Salvador is not the most popular destination among backpackers, but if there are others traveling in El Salvador and Santa Ana, you will surely meet them here because there is simply no other hostel like this!
Best Hostels in Guatemala
Antigua Guatemala, Guatemala – Barbara's Boutique Hostel
Recommended by Tiffany from A Girl and Her Passport
Barbara's Boutique Hostel in Antigua Guatemala is one of the best I have stayed in. It wasn't just the fantastic beds with privacy curtains, either. This hostel makes a great effort to make you feel at home while you are there with friendly staff, daily breakfast, and movie nights. Barbara's is beautiful and is perfectly located in Antigua Guatemala.
The hostel has an open-air concept with the communal areas being open. There are plenty of places to sit, including a rooftop with views of the volcanoes. The staff are also some of the friendliest people you will ever meet.
Best Hostels in Mexico
Merida, Mexico – Nomadas Hostel
Recommended by Shelley from Travel To Mérida
Nomadas Hostel is the perfect place for social travelers. Not necessarily a party hostel, as Merida isn't really a party town, budget travelers of all types will enjoy this hostel.
A colorful colonial Yucatan Peninsula city, there's no shortage of amazing things to do in Merida. Of course, having the perfect accommodation sets the tone for a great trip — and Nomadas is considered the best hostel in Merida.
With a great location in Centro Historico (Historic Downtown), you're in the middle of all the action. Nomadas Hostel is within walking distance of historic buildings, the main plazas, and important monuments in Merida, which is considered the Cultural Capital of Yucatan.
Back at the hostel, you have the option of a shared or private room. There is a beautiful communal lounge area and tropical garden surrounding the pool, the perfect place to cool off during the day.
Mexico City, Mexico – Hostel Home
Recommended by Jessie Stringfield from An Earthly Paradise
Hostel Home is found in a historic home on a beautiful tree-lined street. It's located in one of the best neighborhoods in Mexico City, La Roma, and is close to tons of bars, restaurants, cafés, and beautiful parks and streets to explore.
The hostel is small, and the atmosphere is very friendly and relaxed. It's perfect for laid-back travelers wanting to make new friends to explore Mexico City with. The hostel volunteers really encourage a social atmosphere, but things never get too crazy. The hostel has a quiet-time policy after midnight, where guests either go out to the bars or can stay quietly in the hostel.
Puerto Escondido, Mexico – Bonita Escondida
Recommended by Trisha from P.S. I'm On My Way
There are many hostels in Puerto Escondido, Mexico but Bonita Escondida tops them all – especially if you are traveling solo to Puerto Escondido.
As a solo traveler, I still find hostels the best way to meet people and do activities together. Whenever I come back to Puerto Escondido, I exclusively stay in Bonita Escondido because of its great location in La Punta – a quirky area in Puerto Escondido that is close to all the bars, restaurants, and surf spots.
This hostel has a pool where the bar is located and I need to tell you to only stay here if you are in the mood for socialization. Guests who stay here are backpackers and are always hyperactive with the parties and gatherings!
Bonita Escondida might be a party hostel but when I stayed in the rooms (which are literally in front of the bar), I barely heard anything when the doors are closed.
There is also a culture here that Bonita Escondida is a pre-game location where everyone hangs out before exploring the Puerto Escondido nightlife. Honestly, when I was here, the lights are shut by midnight because everyone goes out! I wasn't really expecting this as I thought the parties would go until the wee hours of the morning.
The dorms at Bonita Escondida are also state of the art – the beds are comfortable, curtains are available for each bed to ensure privacy, and there's also a lamp if you want to just lay down and read a book.
It is always hot in Puerto Escondido so this hostel's pool is really a plus! The nightly rates start at $25 USD for a bed in a dorm and they have a 2-nights minimum booking. I am sure you'll end up staying more than 2 nights like I did!
Best Hostels in Panama
Bocas del Toro, Panama – Palmar Beach Lodge
Recommended by Chris from Punta Cana Travel Blog
Backpacking, a hostel vibe, and splurging at the same time? Head towards Palmar Beach Lodge on the Bocas del Toro archipelago in Panama! Set up as jungle property, beach lodge, and hostel at the same time, Palmar Beach Lodge is located on a remote beach only accessible by boat and features an amazing setting and the best dorms I have ever slept in.
A window with an amazing view to the abundant vegetation directly at each (!) bed, proper walkable stairs (no ladder to climb!) to all upper bunk beds, and water buckets in front of each room to rinse of the sand from the beach – you can't find more attention to detail than here. And even though there is only the hostels' restaurant to eat (remote location + no community kitchen), food prices are extremely affordable and one of the reasons for the laid-back backpacker vibe of this deluxe beachfront hostel property – including a boat shuttle and activities. Bocas del Toro is one of the best places in the world to see bioluminescence, so don't miss out on a bioluminescence tour during your visit.
Panama City, Panama – Selina Casco Viejo
Recommended by Caroline Keyzor from CK Travels
Selina Casco Viejo is a fun and beautifully designed hostel located in the old town of Casco Viejo in Panama City, Panama. The hostel offers both dorms and private rooms and is within walking distance of many UNESCO heritage site colonial buildings, restaurants, bars, and nightlife. However, the hostel is more than just accommodation and has many excellent facilities. The highlight is the huge rooftop area which has amazing views of the ocean and Panama's skyline and comes complete with bars, a taco shack, and an outdoor swimming pool. There is also free WIFI, kitchen, a co-working space, cinema, library and large common areas with quirky interior design.
Best Hostels in Peru
Lima, Peru – Zig Zag Hostel
Recommended by Bradley Williams from Dream Big, Travel Far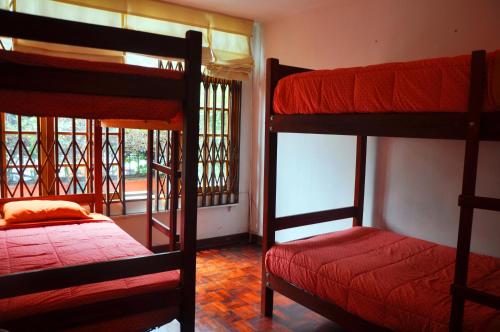 One of the best experiences from our time spent backpacking around South America was our time spent at the Zig Zag Hostel in Lima, Peru. Besides being a generally nice hostel to stay in, what made this so special was the hostel's desire to give back to the impoverished residents of the nearby slums.
Once a week, they cook and portion out hundreds of meals and take volunteer guests with them into the slums to pass these out to local families. It was a wonderful yet eye-opening experience meeting the mothers and children of the slums and it really made us value our own place in this world a little more.
Best Hostels in the United States
New Orleans, LA – HI New Orleans
Recommended by Kerry Hanson from Vegg Travel
The HI Hostel in New Orleans is one of the best hostels around the world. The bunks in the dorm rooms are comfortable, have their own storage locker, plug point, and a curtain for privacy. A free breakfast is included which serves everything from porridge to bagels with cream cheese. The common areas are also trendy, unique, and encourage you to socialize over a game of pool.
The best thing about HI New Orleans is that it is the place to be for Mardi Gras Carnival in New Orleans. Within a short walk, you are in Bourbon Street or at the center of the colorful parades. If you want to party and meet people, but still value comfort and privacy, this hostel is for you.
Washington, MO – Hoefel Haus B&B and Bike Hostel
Recommended by Alexa from Travel in Missouri
Hoefel Haus B&B and Bike Hostel is located in Washington, Missouri in the heart of Missouri Wine Country and less than an hour from St. Louis. The hostel is best for travelers looking for an economy hostel with luxury touches.
Hoefel Haus B&B and Bike Hostel has gorgeous period rooms, most with king beds and soaking tubs. Each room has its own beautiful bathroom. They have rental bikes and a highlight of the experience is the gourmet breakfast usually served with mimosas or Bloody Mary's.
The hostel is within walking distance to downtown and the riverfront. It's near wine country and many biking trails. While visiting, it's fun to know you'll be in the corncob pipe capital of the world.
Washington, DC – Duo Housing
Recommended by Carolin from Happy When Abroad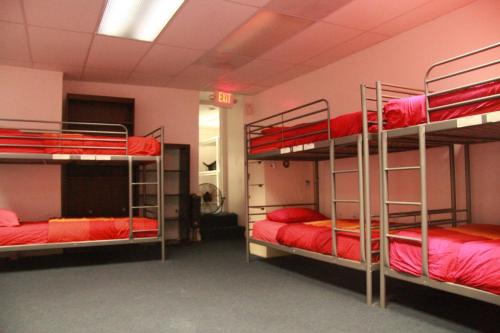 It is not without reason that the Duo Housing Hostel in Washington, DC was nominated best hostel in the whole USA. With several chill-out areas and events, like pizza and movie nights, this hostel is the perfect place to connect with other people and have a great time! On top of that, you can expect super friendly staff, free computers, free coffee and tea as well as a beautiful rooftop terrace.
Duo Hostel is located within walking distance to the main attractions like the White House and the Capitol. All in all, the Duo Housing Hostel offers a great value for money! I would recommend spending at least 2 days in the national capital.
---
Picking the perfect hostel can be difficult, and picking the wrong hostel can give you a bad impression of all hostels when in reality you might have just picked the wrong one for your travel style. As you can see, there are tons of hostels in the Americas with something for travelers looking to party, experience culture, relax on the beach, and every other travel style in between.
Do you know of another amazing hostel in North, Central, or South America that's not on this list? Send me a message and it could get added!
Looking for other great hostels around the world? Check out these posts:
Pin this post on Pinterest to save it for later!