A World in Reach contains affiliate links. If you make a purchase through these links, I may receive a commission at no cost to you! Read my full disclosure here.
Planning a visit to Asia or the Middle East on a budget? Check out this guide to some of the best hostels in Asia and the Middle East!
---
Many destinations in Asia are at the top of the list for budget-friendly travel destinations. In countries like Thailand or the Philippines, you can live like royalty on a very small budget. The entire continent is full of wonderful destinations for budget travelers, and even the more expensive countries can be quite affordable with a bit of planning.
One of the best parts about traveling around Asia on a budget is staying in hostels. Many hostels throughout Asia are full of luxurious amenities like huge swimming pools or outdoor terraces that rival those found in luxurious hotels. In more expensive Asian countries like Japan, hostels are also a great way to keep your accommodation budget low. The social aspect of hostels is perfect for making new travel buddies along the way, which is perfect for solo travelers or even groups looking to meet new people.
Asia is home to some of the best hostels in the world, and there are so many options that it can sometimes be difficult to narrow it down to the perfect one. No worries, though – this guide is here to help! Here, you can find real traveler reviews on some of the best hostels in Asia and the Middle East.
PS: Don't forget to pack these hostel essentials for your stay!
Ready to find the perfect hostel for your visit to Asia or the Middle East? Keep reading for reviews of some of the best hostels across Asia and the Middle East! Hint: Use the handy Table of Contents to jump to your destination – countries are in alphabetical order!
NOTE: Any prices mentioned are correct at the time of publication. Accommodation prices can change from day to day, so make sure to check the hotel's website or booking platform for the most up-to-date rates.
A World in Reach contains affiliate links. If you make a purchase through these links, I may receive a commission at no cost to you! Read my full disclosure here.
Best Hostels in Cambodia
Kampot, Cambodia – Karma Traders Kampot
Recommended by Sarah from Last Minute Wanders
When you stay at Karma Traders in Kampot, you'll feel less like you've checked into a hostel and more like you've come home.
This clean and comfortable hostel has a gorgeous rooftop bar where you can enjoy a drink while watching the sunset behind the mountains, as well as a swimming pool and bar outside. There are regular events such as Taco Tuesday, live music, and game nights, plus family dinners where you can get to know all your fellow hostel mates.
The staff are incredibly friendly and have a wealth of information on things to do in Kampot, and you can even hire a scooter here to help you get around the area.
I initially booked a couple of nights at Karma Traders and ended up staying for weeks as I loved it so much!
Best Hostels in China
Beijing, China – Beijing Heyuan Courtyard International Hostel
Recommended by Mark from Wyld Family Travel
Beijing Heyuan Courtyard International Hostel is the perfect hostel for families to stay in when visiting Beijing. With large family rooms, you will easily find a room that will accommodate your family. Located in an old Hutong area of Beijing it is an easy walk to shops, fast food restaurants, and public transport.
One of the most stunning aspects of the hostel is the amazing traditional courtyard that the hostel wraps around. It is a wonderful place to sit and relax as the kids have an area to stretch their legs in the sprawling metropolis of the Chinese capital.
Lijiang, China – Mama Naxi Guesthouse
Recommended by Daphna from A Tiny Trip
Mama Naxi Guest House in Lijiang, China is an awesome place to stay in the heart of Lijiang, close to Old Town. This wooden guest house feels more like a family home than a hostel. There are a bunch of different types of rooms, from mixed dorms to private family rooms with ensuite bath.
The best part of Mama Naxi Guest House is the fun atmosphere, where it is easy to meet other travelers. The family-style meals are delicious and affordable! It is the perfect place to stay to enjoy Lijiang and then set out to hike Tiger Leaping Gorge.
Xi'an, China – Alley Youth Hostel
Recommended by Mark Wyld from Wyld Family Travel
Alley Youth Hostel is an amazing place to stay for families in Xi'an. They have family rooms with en suite bathrooms as well as dorms for solo travelers. The hostel is located in the center of Xi'an's Muslim Quarter close to markets, restaurants, and the city walls.
Alley Youth Hostel offers nightly cultural activities such as dumpling making, Chinese calligraphy, and tours of the city. The communal area was comfortable and served affordable, tasty meals. This hostel is an excellent place to stay for families, solo travelers, or groups visiting Xi'an.
Best Hostels in India
Bir, Himachal Pradesh, India – The Hosteller Bir
Recommended by Arnav Mathur from Eat | Live | Travel | Repeat
What started as Mavro Bir is now The Hosteller Bir. Located walking distance from the bus stop, the location of The Hosteller Bir is one of its main selling points. A lot of popular cafes, like Ram Bahadur Cafe and Nyingma Restaurant as mentioned in this Bir Billing Food Guide, are just a few minutes walk from The Hosteller.
The Hosteller Bir is also one of the largest of the hostels in Bir, making it the best place to connect with other travelers, whether you are traveling solo or with others. The hostel has a nice sitting area, which is lively throughout the day, bustling with activities. Also, did I mention, the hostel has an in-house restaurant, which serves some really yummy food.
Dharamkot, Himachal Pradesh, India – The Bunker
Recommended by Arnav Mathur from Eat | Live | Travel | Repeat
The Bunker is without a doubt one of the best hostels to stay in Dharamkot – the Hippie Village, near McLeod Ganj (aka Little Tibet) in the state of Himachal Pradesh, India. The café is a great place to hang out with other travelers, and The Bunker also has a dedicated outdoor sitting area, where there are regular bonfires and spontaneous musical evenings.
There are a ton of things you can do in Dharamkot as mentioned in this Dharamkot Weekend Guide, such as trekking, going café-hopping, or just chilling with other travelers. The Bunker is not a party hostel like the ones you find elsewhere; however, there's a perfect blend of being laid back, and having fun social gatherings.
While you can check into any of the other hostels in Dharamkot, it's highly recommended you do so at The Bunker. To be honest, it's more about the vibes at The Bunker, which makes it a highly recommended option. Click here to book your stay at The Bunker.
Digha, West Bengal, India – Digha Youth Hostel
Recommended by Ruma from The Holiday Story
Digha Youth Hostel is the perfect option for a budget-friendly trip to Digha in West Bengal. You can visit here with family or friends. This hostel is located in New Digha, home to one of the best beaches in India. All Digha tourist spots can be easily visited from here, and it is approximately 7 minutes walking distance from Digha Station and Digha SBSTC bus depot. Male and female dorms, as well as air-conditioned private rooms with either two, three, or four beds are available.
Dorms start at around just $3 USD (225 rupees) per night, and prices range up to $17 USD (1250 rupees) for a private 4-bed room. Room charges are fixed at all times. Check-in time is 10:30 AM and check-out time is 9:30 AM. Parking is also available. You must book your stay online, which can be done via the West Bengal Online Youth Hostel Booking System.
Jaipur, Rajasthan, India – Blue Beds Jaipur
Recommended by Claudia from The Visa Project
Referred to as the Pink City due to its pink-ish buildings, Jaipur is really popular with travelers for its forts, palaces, and architectural landmarks. There are many hostels to choose from if you are going to Jaipur.
While visiting India for one year, I traveled to Jaipur and stayed in the Blue Beds hostel, which I would totally recommend. The best thing about it is its close proximity to one of the most popular attractions, the Jal Mahal. It's also super close to public transport. It's in a safe neighborhood and the staff is very friendly.
If you are looking for a laid-back kind of place with a backpacker's vibe, you would love it. The place is very affordable. My husband and I paid close to $15 for a double room per night, and shared dorms start at around just $7.
Jaipur, Rajasthan, India – Zostel Jaipur
Recommended by Mayuri Patel from fernwehrahee
During my last trip to Jaipur, I stayed at Zostel Jaipur. Zostel is one of the most famous chain of hostels in India. Located in the old city area, Zostel Jaipur is perfect in terms of location – it is near to Hawa Mahal and City Palace and a short taxi ride away from Amber Town! The main advantage of staying here will be the reduced cost of transportation as you sightsee around Jaipur.
Zostel Jaipur has air conditioning, a rooftop terrace, and a big, open common space – the perfect place to connect with fellow travelers over a cup of tea or coffee. The hostel has dorms as well as spacious private rooms. Zostel has an on-site kitchen, provides free city maps, and can help you with renting a car. The common area is the most happening place at night – travelers are often singing or playing instruments and having conversations with other visitors. If you are looking for a quality stay in Jaipur with affordable rates and a central location, then Zostel Jaipur is a perfect place to stay.
Mumbai, Maharashtra, India – Backpacker Panda Colaba
Recommended by Shalzmojo from Shalzmojo Blog
At Backpacker Panda Colaba, you can get a cheap stay in one of the best areas of Mumbai. Add to that cleanliness, security, and comfort and you get a great value for your money. A bonus point that it is built in an old house with some great architectural elements.
The dorms have superbly comfortable bunks with very clean linen, and the toilets are very clean as well. A small kitchenette and a common dining room/lounge on the top floor allows you to cook, so you can bring your own groceries and cook for yourself. The rooftop had benches running all along the length and one could laze here with a beer and watch the sunset, or just hang out with other travelers who are staying there too.
The notice board at the reception had several posters of events happening nearby. It also shared info on food joints, tours, taxis, etc., which I thought was very helpful.
Udaipur, Rajasthan, India – Zostel Udaipur
Recommended by Ketki from Explore with Ecokats
Hostels are relatively new in India and are largely popular with international tourists. The main concern with hostels is safety and cleanliness. However, thanks to the hostel chain called Zostel, choosing a hostel is not only becoming popular but a preferred choice especially with domestic backpackers or solo travelers.
During my 3 days in Udaipur I stayed with Zostel Udaipur. It was my first choice as it is popular for its clean rooms, safety (it has mixed and female-only dorms) and most spectacular views from the rooftop. Another added advantage is its proximity to all the tourist spots which are within walking distance. I had a lovely evening at the rooftop café sipping hot coffee on a chilly evening while overlooking the most incredible sunset and seriously considering travel blogging as a full-time career with other co-travelers from around the world! I highly recommend Zostel Udaipur for its laid-back vibe!
Varkala, Kerala, India – Zostel Varkala
Recommended by Nishu Barolia from Tanned Travel Girl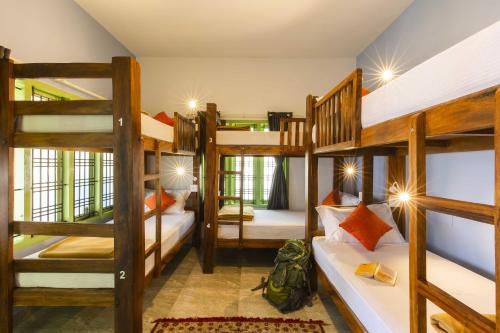 The concept of hostels is relatively new in India compared to the other parts of the world. Zostel Varkala in Varkala, Kerala has laid back vibes and is perfect for solo travelers looking to meet travelers from around the world and socialize.
The location of the hostel makes it even more appealing as it is right by the beach. The supportive staff will help you plan your days as well as your entire trip itinerary. Varkala is one of the most desired beach destinations for backpackers in India and a one night stay at the Zostel will cost USD 7 (INR 500), making the location very affordable.
Best Hostels in Indonesia
Karimunjawa, Central Java, Indonesia – The Bodhi Tree Karimunjawa
Recommended by Cassie from Cassie the Hag
The Bodhi Tree Hostel is an incredibly friendly place to stay in on Karimunjawa Island in Java. While getting to Karimunjawa can be a bit tricky, once you're there the chill islands vibes are irresistibly and perfectly encapsulated by this hostel.
The Bodhi Tree is super clean, has gorgeous and cozy boho vibes, and feels respectful when staying in dorms here. There is a small cafe on-site and you can have passionfruit with pancakes for breakfast. It is easy to book scooters and tours around Karimunjawa from here – in fact, it's often used as a meeting point for the snorkeling and island tours. Despite the fact that a lot is going on, this is a small and cozy hostel with a warm and family vibe.
Canggu, Bali, Indonesia – Guru Canggu Boutique Hostel
Recommended by Mal from Raw Mal Roams
Guru Canggu Boutique Hostel is located in one of the best areas in Bali – the vibrant Canggu, in the heart of Berawa, close to Berawa Beach and a range of cafes, bars, and beach clubs such as the Finns.
The hostel has a range of mixed dorms and private double rooms. But the best thing about it is its boho décor in the communal areas! Guru Canggu also features a pool and a café serving delicious healthy food such as avocado on toast and smoothies. If you're interested in surfing, the staff can organize surfing lessons for you. You can also socialize during movie nights in the garden of the hostel.
Canggu, Bali, Indonesia – The Hideout Hostel
Recommended by Whitney from Moon Wandering
With such a choice of hostels in Canggu and Seminyak, luxe features might draw you in, but the vibe is what keeps you coming back. The Hideout in Canggu delivers a casual, easy-going vibe that makes socializing easy.
A small pool will keep you cool, and the well-kept lawn gives you plenty of room to stretch out. Hosting daily yoga, The Hideout offers an amenity many Bali goers love, in a no-pressure environment that will bring joy to both beginners and lifelong yogis. Grab a Bintang and join the weekly BBQ dinner for a local Indonesian feast with your new friends!
Ubud, Bali, Indonesia – Griya Sugriwa Backpackers House
Recommended by Gabrijela Zec from Under Flowery Sky
Bali is full of amazing hostels, almost all including beautiful pools and fascinating paintings. One such place is Griya Sugriwa Backpackers House in the picturesque town of Ubud. It's not easy to find an adequate hostel in Ubud because either they lack air conditioning or are overcrowded, but this hostel is excellent.
Griya Sugriwa has it all including a big pool, curtains around the beds, and eye-catching paintings. The hostel has a fantastic atmosphere, especially when you're sitting at the terrace, listening to the frogs and playing fun games. It's not a party hostel, but a place where I met some of the best people. Free dinner is offered every Friday and there is always a free breakfast served by the pool. This hostel also functions as a temple with the typical Indonesian architecture. It's not one of the central hostels but is a fantastic place just 20 minutes away.
Ubud, Bali, Indonesia – Ubud Rice Field House
Recommended by Maria from A World of Destinations
Ubud Rice Field House is the perfect hostel for those who seek a calm place to relax and to reconnect with nature while visiting Bali. While it's only a 5-minute walk from the busy center of Ubud, its remote location in the middle of the rice fields provides tranquility and peacefulness paired with amazing rice field views. The staff are lovely people who give their best to make your stay as comfortable as possible and everything is kept perfectly clean. Ubud Rice Field House is a popular choice for solo travelers and backpackers who aim to meet and connect with fellow travelers.
Best Hostels in Iran
Kashan, Iran – Ehsan House
Recommended by Ellis Veen from Backpack Adventures
Kashan in Iran is famous for its traditional houses that were once home to wealthy merchants. Nowadays, most have turned into museums or hotels. Ehsan House is one of the few hostels among them that also focuses on independent budget travellers.
This hostel has scenic double rooms as well as a dormitory room for solo travelers. One of the highlights is its restaurant that serves traditional Iranian food and a delicious breakfast buffet that will fill you for the rest of the day.
If you want to stay in a traditional Iranian house for a good price and you are looking for a quiet and laid back hostel, you can't go wrong with Ehsan House in Kashan.
Best Hostels in Israel
Tel Aviv, Israel – Abraham Hostel
Recommended by Claudia Tavani from My Adventures Across the World
Abraham Hostel Tel Aviv is among the best places to stay in the city and is one of the best hostels in Tel Aviv. Conveniently located on Levontin, literally a block away from Rothschild Avenue, which is the heart of the city, it is the perfect place to rest after a long day exploring the city or other places in the country.
At Abraham Hostel, you will find a good selection of well-equipped dorms, each having their own private bathrooms as well as lockers, private rooms, and even family rooms. The hostel has a great bar with a good selection of drinks and space for social events, a well-equipped kitchen, a terrace where you can hang out and enjoy the sun or the views, and a convenient laundry room. There is a tour desk on the ground floor so you can book activities in the city and the country. A good breakfast is served daily. It is a great place to meet other like-minded travelers. There are a couple of lovely hostel cats too!
Best Hostels in Japan
Takayama, Japan – Sakura Guest House
Recommended by Ashley + Nick from Illness to Ultra
If you find yourself in the mountainous Gifu Prefecture of Japan, I highly recommend that you head to Takayama, a city filled with Edo Period merchant houses that line the narrow streets of the Sanmachi Suji historic district. There you'll find one of the best hostels we've ever stayed in: Sakura Guest House.
Located on Hido no Sato Rd, this laid-back guesthouse is located 12 minutes from Hida Minzoku Mura Folk Village and 2 kilometers from the Takayama Station.
Not only are the beds comfy, but a heating bed pad was provided (and much appreciated) during the very snowy and cold winter months. In winter, you will find a warm, blazing fire in the common room/kitchen where guests relax after their day on the slopes.
As per usual in Japan, you can expect the kitchen and bathrooms to be impeccably clean.
Read More: Essential Japan Travel Tips
Best Hostels in Malaysia
Kuala Lumpur, Malaysia – Mingle Hostel
Recommended by Victoria from Guide Your Travel
The Mingle Hostel in Kuala Lumpur is located in the popular Chinatown neighborhood, just a five-minute walk from public transport. In Chinatown, you will find everything you need from souvenirs, many restaurants, and lots of small bars. This is also the location of the famous Petaling Street, which is a large market selling clothes, food, and other goods.
Next to the hostel, you will find one of Kuala Lumpur's best hidden bars where you can enjoy some extravagant cocktails. The hostel itself is not really a party hostel but has a nice roof terrace which is inviting for some late-night drinks. The rooms are very clean all with shared bathrooms and comfortable, and a continental breakfast is included in the price.
Kuala Lumpur, Malaysia – Paper Plane Hostel
Recommended by Dave from Silverbackpacker
Paper Plane Hostel is ideal for travelers looking for a quiet and very clean place to stay. You are asked to remove your shoes at the lobby and use slippers that are provided. It is just 10 minutes walk from the nearest monorail station and the owners are super friendly and very helpful.
There is a choice of either private or dorm rooms, which have ample sockets for charging your gadgets. The rooms are spacious and airy with very comfortable beds. The bathrooms are shared and are cleaned regularly throughout the day. A roof terrace provides views over the neighborhood and somewhere to chill outside your room.
What makes Paper Plane Hostel unique are the artworks painted on the walls everywhere, including the washrooms. Next time you are in KL, try it out and experience it for yourself!
Best Hostels in Myanmar
Nyaung Shwe/Inle Lake, Myanmar – BaobaBed Hostel
Recommended by Tina de Peralta from I Went Anyways
BaobaBed Nyaung Shwe is part of a hostel chain in Myanmar owned by local travelers. Centrally located in town, it is a nice social hostel with great facilities. It offers free basic breakfast, free bike use, a shared rooftop jacuzzi and a rooftop bar where you can enjoy the stunning view of the sunrise or the sunset.
The rooms are very secure as you need an access code to get in. The dorm rooms are spacious and clean. The beds are very comfortable and bunk beds are equipped with a safe box, big locker, a reading light, and a curtain for privacy. The best feature of this hostel is that they offer a complimentary early check-in room where you can take a nap when you arrive at the wee hours of the morning. You can also use this room after you have checked out and you're leaving in the evening.
Best Hostels in the Philippines
El Nido, Philippines – Outpost Beach Hostel
Recommended by Greta from Greta's Travels
Outpost Beach Hostel in El Nido is one of the friendliest hostels I have ever stayed at. Located a short 5-minute tuk-tuk drive away from El Nido town, it's right on the beach and has epic sunset views.
Every day at sunset, the hostel staff go around the restaurant area and offer everyone a free shot for a joint sunset drink. They have a lively social agenda, with themed events on every night. They also organize island hopping trips in El Nido only for hostel guests so that you can keep interacting with the new friends you made at the bar the previous night.
There is a strict 10:30PM curfew when they turn off all the music and lights and send people either to bed or out to other bars. It's a bit of a party hostel where you can easily meet new people but where you can also rest and have your space.
Best Hostels in Sri Lanka
Sigiriya, Sri Lanka – Roy's Villa Hostel
Recommended by Lara from Both Feet on the Road
For several years in a row, Roy's Villa in Sigiriya, Sri Lanka has won the best hostel award in Sri Lanka. Though I am usually quite skeptical about those awards, this hostel more than deserves it! There are only eight beds at the hostel as it consists of two villas with four huge beds and luxury personal space which you never find in a hostel.
The owner of the hostel, Roy, is the friendliest guy ever who will do everything he can to make your stay unforgettable. His wife prepares a delicious traditional Sri Lankan breakfast and dinner which you share with the other guests. It's more of a social, laid-back hostel than a party hostel, but the combination of luxury beds, personal travel advice from Roy, delicious local meals, and a great social vibe definitely made Roy's Villa the best hostel in Sri Lanka and perhaps the best hostel in all of Asia!
Best Hostels in Taiwan
Taichung, Taiwan – Norden Ruder Hostel Taichung
Recommended by Queenie Mak from ms travel solo
Norden Ruder Hostel is a minimalist contemporary hostel in Taichung, Taiwan. Unlike traditional hostels, Norden Ruder has 2-bed dormitory units that consist of a full bathroom and two sleeping areas. Each guest gets a single platform bed in a semi-private space.
Besides the clean and minimalistic sleeping quarters, there are plenty of common areas for travelers to hang out, including a large kitchen, communal dining area and various sitting areas.
While it is not the cheapest hotel in Taichung, it is not expensive at all. The hostel is ideal for any independent traveler who likes to stay at a boutique accommodation that is designed well, quiet and safe.
If you are visiting Taichung, consider staying at the centrally located Norden Ruder Hostel and enjoy the spectacular hospitality – it is definitely one of the best hostels in Asia.
Best Hostels in Thailand
Bangkok, Thailand – Bed Station Ratchathewi
Recommended by Becki from Meet Me In Departures
Undoubtedly, Bangkok is going to appear somewhere on your Thailand itinerary. Being the nation's capital and also the main hub for transportation links in Southeast Asia, it's worthwhile spending at least a few days here. One of the best places to stay in Bangkok if you want something which is affordable, clean and modern and with amazing transport links is Bed Station Hostel Ratchathewi.
This hostel is located just a couple of minutes walk from Ratchathewi BTS Station and the décor is industrial style, but with plenty of cute, homely features. I loved the mezzanine overlooking the main foyer – it's filled with comfy beanbags, games, books, and computers so it's a great place to chill and meet other travelers.
They have coffee and tea available all day long with cute little biscuits – all backpackers love free stuff, right? The staff are friendly, the hostel is clean with hot showers and spacious bathrooms, and the beds are huge. Each bed has its own privacy curtain, power socket, and light. It's no wonder I keep coming back to stay here whenever I travel through Thailand.
Bangkok, Thailand – Jam Hostel Bangkok
Recommended by Gian from CarryonBabe
Jam Hostel is perfect for budget travelers who want to experience Bangkok. It is not a party hostel, but it is right beside one (Mad Monkey Hostel) and is well suited for laid-back travelers.
The hostel offers daily tours including a Night Market tour and a free walking tour. The room set up is very modern, industrial, and minimal. There are private and dorm-style rooms, an elevator, free breakfast, towels, wifi, lockers, and a full kitchen. There's a rooftop bar open in the evenings which gives you a chance to meet people. Food-wise, you'll be surrounded by great cheap restaurants in the area, but grocery stores are walkable as well.
The best part about Jam Hostel is that it is only a short walk from the bustling Khao San Road (.3 miles to be exact). If you're looking to explore the temples, the boat station is only a block away from the hostel.
Chiang Mai, Thailand – The Entaneer Poshtel
Recommended by Martina from PlacesofJuma
A fantastic hostel in Thailand is the Entaneer Poshtel in Chiang Mai. This laid-back hostel has everything a backpacker's heart desires. It's spacious, clean, comfortable, and captivates with an amazing design and a unique atmosphere.
At the Entaneer Poshtel, you can expect a chil place where you can meet new people and have a great time. Also, we loved the fresh and healthy breakfast that is included in the rate. The friendliness of the staff was also impressive – they make you feel more than welcome all the time. Another plus is the hostel's perfect location, just outside of the Old City and easy to walk to lots of places in Chiang Mai!
Pai, Thailand – Pai Backpackers Paradise
Recommended by Samantha from Intentional Detours
Pai was my last stop in Thailand before heading to Laos, and thanks to Pai Paradise Backpackers, it ended up being a major highlight of my entire trip. Pai Paradise Backpackers truly is paradise – set in a beautiful section of town near lush farmland, the hostel is comprised of a couple of dorms, beautiful cottage-style private rooms, and a large communal space complete with hammocks, slacklines, and a bar that sells a wide variety of food, drinks, and other goodies.
This social hostel is perfect for those looking to meet other backpackers in a setting that isn't focused on alcohol. Fire shows and a bit of karaoke take place in the evenings, while days are perfect for lounging in one of the many comfy areas. Best of all, the hostel is only a 5-minute scooter ride from Pai's walking street and boasts incredibly cheap prices for an excellent value.
Phuket, Thailand – Lub d Phuket
Recommended by Debjani lahiri from The Vagabong
Phuket happens to be a perfect destination for solo backpackers who are looking for a combination of party, adventure, island vibes and stunning Thailand waters. Lub d Hostels are great and one of the best chains of hostel in Thailand. I stayed in Lub d Phuket which is located in Patong beach , at a walking distance from the very famous Bangla Road, where all the action happens in Phuket.
Lub d Phuket has amazing vibes and cool interiors with all the facilities available such as a stunning pool, swanky bar counter, foosball, a snooker table, and friendly staff. The best part was that they were not really fussy about check-in timing and are really flexible if you put in a prior request regarding late checkout or early check-in.
If you're heading to Phuket, Lub d Hostel is definitely one of the best places to stay.
Best Hostels in Vietnam
Phong Nha, Vietnam – Easy Tiger
Recommended by Emma from The World by Emstagram
There's a common denominator when it comes to Phong Nha advice: stay at Easy Tiger Hostel. For sometimes as little as £1 a night you get access to a swimming pool, free bicycles, and lots of free drinking water stations. Even if you stay at their sister hostel, Shambalaa, you can still make the most of the Easy Tiger facilities. The staff are amazing, as is the reasonably priced on-site food.
Easy Tiger becomes the central hub of Phong Nha in the evening with all the backpackers coming together to eat and drink. It's incredibly social but not a party hostel, so it's ideal for any kind of traveler. Every morning there are group tours to the nearby Phong Nha cave which is ideal for solo travelers wanting to meet new people and split the cost cave exploration. For more Phong Nha advice, check out my travel guide.
---
Asia and the Middle East are home to so many fabulous hostels. Whether you're looking for a party hostel or one for hanging out and relaxing, you can find a hostel that's right for you and your travel style.
The hostels listed in this guide are some of the best hostels in Asia and the Middle East, so you'll definitely have a great experience no matter which one you choose. Know of another awesome hostel in Asia or the Middle East that's not featured on this list? Send me an email and it could get added!
Looking for other great hostels around the world? Check out these posts:
Have you stayed at a hostel in Asia or the Middle East? Let me know in the comments below!