A World in Reach contains affiliate links. If you make a purchase through these links, I may receive a commission at no cost to you! Read my full disclosure here.
Planning a quick weekend getaway but struggling to decide where to go? Keep reading for 25 of the best USA Weekend Trips to take this year!
---
Whether you're a college student with classes during the weekdays or working a full-time job with limited vacation time, taking a 2 or 3-day weekend getaway is a great way to scratch your travel itch!
I love taking weekend trips to both new destinations and old favorites. Why hang out at home watching Netflix all weekend when I could be exploring a new place, trying new foods, and knocking things off my bucket list?
Weekend trips in the USA are also perfect for when you can't travel internationally. Sometimes, visiting a different state can feel like you're visiting a completely different country. Plus, for me, the excitement of visiting a new place in the United States is just as fun as going abroad!
Are you wanting to take a USA weekend trip soon but struggling to decide where to go? Look no further than this post! I've compiled a list of 25 of the best weekend trips in the United States – some that are favorite spots of mine and others that are on my bucket list.
There's a nice mix of spots on this list, including city breaks, small towns, national parks, and hidden gems. Whether you want a jam-packed weekend full of sightseeing or a relaxing weekend on a lake or in the mountains, you'll find a destination here that's perfect for you!
A World in Reach contains affiliate links. If you make a purchase through these links, I may receive a commission at no cost to you! For more information, read my full disclosure here.
USA Weekend Trips: Savannah, Georgia
One of my absolute favorite destinations for a quick weekend getaway in the United States is beautiful Savannah, Georgia.
There's so much to do in Savannah. The city is home to the largest Historic District in the country. Here, you'll find beautiful mansions and historic homes, churches, shops, restaurants, and 22 historic squares. In the southern part of the Historic District you'll find Forsyth Park, the oldest and largest park in the city. This is the perfect place to relax, have a picnic, and people watch. Don't miss the beautiful Forsyth Fountain in the north end of the park – this fountain is a Savannah icon and one of the most photographed spots in the city.
One of the best parts about the Historic District? You can legally explore with an alcoholic beverage in hand, so grab a to-go drink from one of the spots on River Street (Wet Willie's is my favorite) before heading down to explore the Historic District.
Savannah is often said to be the most haunted city in the United States – because of that, there are tons of different Savannah ghost tours. Ride around in style to Savannah's spookiest spots on a hearse tour, or opt for an adults-only haunted bar crawl. You can also spend a few hours exploring the hauntingly beautiful Bonaventure Cemetery in the eastern part of Savannah.
Savannah is a great city for foodies – don't miss the chance to try some hearty Southern cuisine. The Olde Pink House is one of the best restaurants in town, but it is a bit pricey. It's the perfect spot for a special occasion! After dinner, get in line for some of the best ice cream in the USA at Leopold's. Don't let the long lines scare you off – the wait will be worth it (and the lines move pretty quickly).
Where to Stay in Savannah
The Historic District is the best area to stay in Savannah. The district is very walkable, so you won't need a car unless you want to venture further afield to Wormsloe Historic Site or Tybee Island.
Hotels in the Historic District are a bit more expensive than hotels in other areas of town, like around the airport or Midtown Savannah. But, the money you'd save in hotel costs will be spent on Ubers to get downtown – just spend a little more on your hotel so that you can walk everywhere.
For an affordable place to stay in the Historic District, check out The Thunderbird Inn or the Holiday Inn Historic District. You can see more Savannah hotels on Booking.com, or find Hot Rate hotel deals on Hotwire – perfect for a last-minute trip. You can also find Savannah vacation rentals on VRBO – these are perfect for traveling with a group of friends!
Weekend Trip to Louisville, Kentucky
Outside of visiting for the Kentucky Derby or the Bourbon Trail, Louisville is a city that isn't on the radar of many tourists. But, Louisville is definitely a city worth adding to your USA weekend trips bucket list. Kentucky's largest city, influenced by both Midwest and Southern culture, is an up-and-coming destination that's perfect for a quick weekend getaway.
There are so many things to do in Louisville to keep you occupied on a weekend trip. You can explore downtown, visiting museums like the Louisville Slugger Museum or the free art museum in the 21c Museum Hotel. You can also walk the Big Four Bridge over to southern Indiana for great views of the Louisville skyline.
Make sure to hang out in NuLu, visiting the shops and restaurants in the city's hippest neighborhood (don't miss the Cuban cuisine at La Bodeguita de Mima or ice cream from Louisville Cream). You can also visit the Kentucky Derby Museum and take a tour of the famed Churchill Downs (and check out a race if there's one going on during your visit).
Kentucky is known for its Bourbon, and Louisville is a great starting spot for the Kentucky Bourbon Trail. Visit some of the distilleries located in Louisville, like Angel's Envy or Michter's, or take a day trip south to Bardstown – the Bourbon Capital of the World.
Louisville is a great city for foodies. Some of my favorite restaurants in town include Mussel & Bourbon Bar, Hammerheads, The Irish Rover, and The Eagle, which is located in the Highlands neighborhood. The Highlands is home to Louisville's best nightlife and is where most locals go (avoid the bars at Fourth Street Live in downtown – they're all tourist traps).
Louisville is within a day's drive of over half of the US population, making it an easy destination to drive to for the weekend. You can also fly into Louisville Muhammad Ali International Airport, which is served by most major airlines as well as budget airlines like Allegiant Air and Spirit.
If you're not driving into town, you'll definitely want to rent a car – the best places to visit in Louisville are pretty spread out and the city's bus system is not the most convenient for getting around.
Where to Stay in Louisville
Most of Louisville's hotels are located Downtown, near the airport, and in the east end of the city.
My pick for where to stay in Louisville? The AC Hotel Louisville Downtown is located in the middle of NuLu, putting you close to some of the city's best restaurants and bars. The rest of the city is just a quick drive or Uber ride away. It's also affordable, with rates around $100 per night.
You can find more Louisville hotels on Booking.com, or check for Louisville vacation rentals on VRBO.
New York City
Explored by Kelly Duhigg from Girl with the Passport
One of the best weekend getaways in the USA is New York, New York. Start your weekend off by checking into one of the charming rooms at 414 Hotel. It's a fantastic place to stay since the rooms are reasonably priced and well-located in the Hell's Kitchen area. Once you've settled in, walk over to Times Square and enjoy the magnetic, electric hue of this vibrant area.
Afterward, enjoy a Broadway Show (use the TodayTix app to get tickets at 50% off) or see an amazing, modern production of Shakespeare's Macbeth at the McKittrich Hotel. It's entitled Sleep No More and is unique, totally immersive theatrical experience that is not to be missed.
Finally, head back to your hotel and wake up refreshed, ready to explore midtown Manhattan.
Start your second day off with a fresh bagel from Ess-A-Bagel and then walk over to Grand Central Terminal. Take in the constellation-studded ceiling here before visiting the Morgan Public Library.
Take in the stunning exhibitions here before heading to the New York Public Library, Bryant Park, and eventually up Fifth Avenue. Continue on Fifth Avenue, making stops at NYC bucket list spots like Rockefeller Center and St. Patrick's Cathedral. When you're hungry, descend into the basement of the Plaza Hotel and enjoy some of the fantastic food here. Highlights include Lady M Confections and Takumi Taco.
Once you've had your fill, visit Central Park and enjoy this expansive green space. Be sure to take some photos near Bethesda Fountain before making your way uptown to the MET and the Guggenheim Museum – the second of which has "pay what you wish admission" on Saturdays between 4:00 pm to 6:00 pm.
Then, end your weekend with a decadent Sunday brunch at Sarabeth's, a restaurant that serves some of BEST lemon ricotta pancakes ever.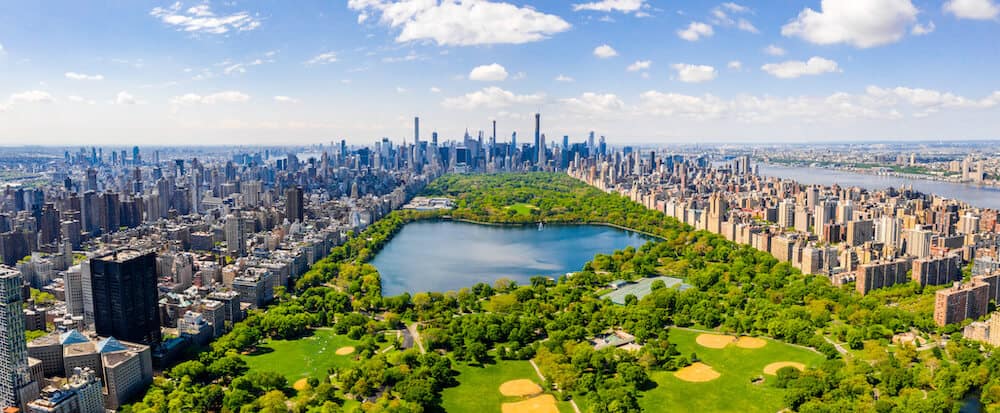 Where to Stay in New York City
The 414 Hotel is a unique boutique hotel in the heart of midtown Manhattan, perfectly located for a weekend stay.
You can find more NYC hotels on Booking.com, or check out Hotwire for some insane hotel deals – some up to 60% off regular price!
READ MORE: The Ultimate New York City Bucket List
Las Vegas, Nevada – Weekend Trips in the USA
Explored by Erin from Pina Travels
Las Vegas truly has something for everyone, making it one of the best USA weekend trips. There are the classic things to do, like taking advantage of the city's party scene, gambling in the casinos, eating at a buffet, and seeing an evening show. But there are plenty of unique and affordable things to do in Las Vegas, too.
Learn about the history of exotic dance in Las Vegas at the Burlesque Hall of Fame. This registered educational non-profit is a small museum that has an incredible collection of donated items. If you'd like to have the classic Vegas experience, do some casino hopping! The themed casinos on the Strip are an attraction themselves, regardless of if you gamble. You can work your way from Circus Circus all the way south to The Venetian. For a little bit of art and an incredible photo op, visit the Seven Magic Mountains. This is a public art installation that is on the outskirts of the city, and it's free to visit.
Most visitors opt to stay on the famous Las Vegas Strip, but if you are willing to venture north to Fremont Street you'll find that the hotels are more affordable. Fremont Street has historical significance because it was Las Vegas's first paved road. The street is home to the "Fremont Street Experience," a pedestrian mall that has a canopy of lights and hosts street performances and free concerts. The area is lively and fun, and has its own "hotel corridor," with rates that are significantly lower compared to the hotels on the strip. There are many great (and affordable!) restaurants nearby, like AmeriBrunch, a little brunch café that serves delicious, inexpensive breakfasts and coffee. From Fremont Street, you can easily catch a bus, taxi, or Uber to take you south to the Vegas Strip.
Where to Stay in Las Vegas
Fremont Street is home to many great hotels like The D Casino Hotel and the famous Golden Nugget. If you'd prefer to stay on the Strip, Bally's Las Vegas is perfectly located in the middle of the Strip and is very affordable.
Find more Las Vegas hotels on Booking.com or check for Las Vegas Hot Rate Deals on Hotwire; you can also find Las Vegas vacation rentals on VBRO.
Boston, Massachusetts
Explored by Nicole Rosania from The Abroad Blog
Boston, Massachusetts is one of the best cities in the USA for a weekend trip! It's one of the most historical cities in the country, and its downtown is easily walkable.
A can't-miss activity in Boston is to walk the Freedom Trail. The Freedom Trail runs 2.5 miles throughout downtown Boston, covering 16 Revolutionary War-era sites. Begin your journey at the Boston Common Visitor's Center and wrap up near the North End, Boston's Italian neighborhood. The North End is a wonderful place to grab dinner. Packed with authentic Italian restaurants, you really can't go wrong here, but top picks include Trattoria Il Panino and Fiore. Be sure to swing up Mike's Pastry afterwards for a cannoli.
While in Boston, be sure to explore Faneuil Hall and the Boston Harbor. Here you'll find plenty of shops and restaurants, along with Boston's New England Aquarium – the perfect activity for a rainy day. Head to the Seaport, Boston's newest neighborhood, for some of the best restaurants and bars in the city. This is where you'll also find some of Boston's premier rooftops, including the Envoy Lookout Bar and Deck12 at YOTEL Boston. The Seaport is also a great place to stay in Boston.
Looking for more ideas about how to spend a weekend in Boston? Consider catching a Red Sox game at Fenway Park! Fenway is the oldest stadium in the US and has lots of fun traditions for fans to enjoy. If you're not able to catch a game, you can also take a guided tour of the iconic ballpark.
Where to Stay in Boston
The Seaport is an up-and-coming neighborhood and a great area to stay when visiting Boston. Aloft Boston Seaport District and YOTEL Boston are both affordable and great for a weekend stay. Find more Boston hotels on Booking.com, or search Hotwire for a last-minute deal.
There are also a couple of awesome hostels in Boston that are perfect for budget travelers! HI Boston is one of the best in town.
You can also check sites like VRBO for Boston vacation rentals that are perfect for groups of friends!
Austin, Texas
Explored by Nikki from She Saves She Travels
If you're looking for a fantastic weekend getaway in the USA, consider Austin Texas! Filled with a ton of outdoor activities, excellent restaurants, and great nightlife. Austin is perfect for a couples weekend, bachelor/bachelorette party, girls' getaway, or even a solo adventure!
The eclectic art scene in Austin is perfect for going mural hunting! You'll find street art all over downtown and SoCo (South Congress Avenue), so grab your camera and go after some murals. The most popular murals are 'Greetings from Austin', 'I love you so much', and "You're My Butter Half".
The food scene definitely makes this weekend in Austin one of the best getaways in the USA. Between the amazing assortment of food trucks to some of the best BBQ spots in Texas, you really cannot be beat. From breakfast burritos to Jamaican food, vegan dishes, and gourmet grilled cheese, you'll be sure to find something at an Austin food truck. And bonus – it's an affordable option for your weekend, too.
Austin is the live music capital of the world, which means a whole lot of nightlife! You'll find live music in most restaurants, and even at the airport! Try out the popular 6th Street or Rainey Street for music, dancing, and more nightlife.
Before you leave Austin, be sure to hike up Mount Bonnell. A short 106 stone steps will take you to the highest point in Austin where you'll see the Colorado River. It's a perfect spot to watch the sunset or get a great view of the Austin skyline from afar.
Where to Stay in Austin
Hotels in Austin can be on the pricier side. Rates tend to vary quite a bit between dates – check out Booking.com to see all Austin hotels and find one with the right price for your stay.
A more affordable option is to consider a vacation rental – you can find Austin vacation rentals on VRBO.
New Orleans, Louisiana
Explored by Gabby from The Office Escape Artist
If you're looking for the perfect long-weekend destination, look no further than New Orleans. It doesn't really matter what you're into – awesome food, partying, culture, or history – because New Orleans offers all that and more.
In terms of food, New Orleans is one of the best cities in the USA. For low-key dining, enjoy a beignet and cafe au lait at Cafe du Monde or a muffuletta from Central Grocery. Other dishes that can be found all over the city – and are must-trys! – are po-boys, gumbo, and jambalaya.
For partying, New Orleans is unmatched. You can carry your drinks in the street and even get them to go, so be sure to get a mango-mango daiquiri or a Hurricane from one of the many corner shops. You don't have to look hard for a party in NOLA… Bourbon Street is a party year-round.
Besides eating and drinking, New Orleans offers so much to do. Take a haunted tour of the French Quarter and hear real-life murder stories. Visit an above-ground cemetery and learn why New Orleans uses tombs instead of traditional graves. Visit a voodoo shop and get your fortune read, or buy a gris-gris bag for good luck. Take a bicycle tour of the Lower Ninth Ward and learn about the destruction that Hurricane Katrina wreaked on this city. There is so much to see and discover – and a long weekend will leave you wanting more.
Where to Stay in New Orleans
For a long weekend, you'll definitely want to stay in the French Quarter or very close to it. You may be able to find a cheap vacation rental outside the French Quarter but the neighborhood may be less than ideal and the Uber fees will end up costing you a fortune.
Most of your time in the Crescent City will be in the French Quarter so you may as well stay nearby, too. Nearby Frenchman Street is a great alternative – especially if you like art and jazz.
The Old No. 77 Hotel is a charming boutique hotel that's perfect for a weekend trip. It's just a few blocks from the French Quarter and Bourbon Street. There's also the NOPSI Hotel – this hotel even has a rooftop pool!
You can find more New Orleans hotels on Booking.com, or check VRBO for New Orleans vacation rentals.
Weekend Getaways in the USA: Nashville, Tennessee
Explored by Michelle from Moyer Memoirs
Nashville, Tennessee is a great weekend getaway destination that's filled with activities and nightlife to make for an exciting vacation. Nashville is called Music City due to its musical roots dating back centuries ago. However, even today it is a focal point in the music industry with over 200 recording studios as well as 'listening rooms' and cafes for locals and tourists alike, which function as performance outlets for up-and-coming artists.
Broadway is the main street in Nashville. It is populated on both sides of the street by Honky-Tonk bars providing a nice variety of free nightly entertainment in the multi-level establishments and rooftop bars. Pedal Bars cruise up and down Broadway with party-going guests singing, drinking, and pedaling to the music. Other must-see Music City venues include the Country Music Hall of Fame and the Music City Walk of Fame. Outside of Broadway, many Nashville wineries also offer entertainment in their vineyards while you taste samples of their latest spirits.
Nashville also has a very prominent art scene. There are galleries, art festivals, and art nights to take part in. Street art is also very popular. Morning mural tours along 12 South and other areas around the city are a great way to start the day and get some exercise. There are always over a handful of murals within a short walking distance.
Don't forget to spend an afternoon at one of the parks around Nashville. Centennial Park, Riverfront Park, Bicentennial Capitol Mall Park, and Sevier Park all have trails, beautiful scenery, picnic areas, and other sites to see.
There are a lot of great places to eat in Nashville. The honky-tonk bars on Broadway and listening rooms around the city offer good dining in addition to the entertainment. The must-try Nashville dishes include spicy chicken from Hattie B's, biscuits from Biscuit Love, and pulled pork or BBQ from many places around Music City.
Where to Stay in Nashville
One of the best budget-friendly places to stay in Nashville is the AC Hotel Nashville Downtown, which is located just a couple blocks away from Broadway.
Another fun choice is the Graduate Nashville, a bright and fun (and very pink) hotel in Midtown. Make sure to check out White Limozeen, the hotel's Dolly Parton-themed rooftop bar. Even if you're not staying at this hotel, the bar is definitely worth a visit.
For more places to stay in Nashville, check out Booking.com. You can also find Nashville vacation rentals on VRBO.
Charleston, South Carolina
Explored by Anna from PaddlingSpace
Charleston is the perfect place for a USA weekend getaway as there is plenty to see and do in the city within a small radius. This means you won't spend your weekend driving back and forth, but sightseeing instead.
If you only have a weekend to explore the city then you should spend most of your time downtown. Free Tours by Foot offers multiple wonderful free walking tours of the city, though you are expected to tip your guide. These tours are a great way to see a lot of Charleston's top sights, including the French Quarter, Rainbow Row, and the Pineapple Fountain.
If you're interested in history, take the ferry over to Fort Sumter, where the first shots of the Civil War were fired. You'll also want to spend some time just getting lost in the neighborhoods downtown, walking along the Battery and in White Point Gardens. If you want to get outside of the city, take a kayaking tour with Charleston Outdoor Adventures.
You're sure to work up an appetite and Charleston is known for its delicious cuisine. Brown Dog Deli is a popular spot for locals and very affordable. The Rarebit is also a cute throwback diner. Poogan's Porch is definitely a can't-miss for tasty Southern food. Make sure to visit Kaminsky's if you have a sweet tooth. There are incredible places to eat in Charleston everywhere you look.
Where to Stay in Charleston
The NotSo Hostel is a great choice for solo travelers or those visiting Charleston on a budget. The hostel has dorms and private rooms and is within walking distance of several great restaurants.
You can also opt for a hotel in nearby Mt. Pleasant for more affordable options. This means that you do have to drive into town each day, but the hotels here are much cheaper.
Check out Booking.com for more places to stay in Charleston, or find the perfect vacation rental on VRBO.
San Francisco, California Weekend Getaway
Explored by Travel Girl from Let's Jet, Kids!
Whether you're looking for outdoor adventure, city life, or history on your weekend trip, San Francisco has it all!
For an outdoor adventure, head to Golden Gate Park to experience a beautiful Japanese Garden full of plants, art, sculptures, bridges, and water. Then, take an Uber or Lyft over to the Sports Basement where you can rent an e-bike (or regular bike) and cycle over the Golden Gate Bridge! This beautiful ride will land you at the famous view point of the bridge on the other side.
You can also take in fresh air as you walk along Fisherman's Wharf. Stop for a fresh seafood lunch at one of San Francisco's best restaurants before heading to Ghirardelli Square for a massive selection of chocolate-everything (including some of the best ice cream in the USA)!
Of course, you can't miss out walking up the side of Lombard Street. This manicured walkway climbs up the side of the most crooked street in the world, containing 8 switchbacks that cars maneuver down. For an outdoor cultural experience, head to Little Italy and dine at one of many authentic restaurants. You can also head to Chinatown and do a little shopping and taste some authentic treats like Dragon's Breath.
Looking for something more urban and upscale? Go to Union Square where you can relax in the beautiful main plaza area, watch vendors and artists, or just hang out and enjoy the scene. You can, of course, shop around this upscale area (Tiffany's, anyone?) of San Francisco as well.
History lovers can take the ferry out to Alcatraz (reserve in advance) and discover the famous prison of Al Capone, and the movie The Rock. You can also take a classic ride on the San Francisco cable cars, the only ones in the world that still operate manually! No matter what travel style you dig, there is something for everyone to enjoy in San Francisco, one of the best USA weekend trip destinations!
Where to Stay in San Francisco
Located in San Francisco's Nob Hill/Union Square neighborhood, White Swan Inn is a boutique hotel with a unique design and complimentary breakfast served daily.
Check out Booking.com for more San Francisco hotels or find San Francisco Hot Rate Deals on Hotwire. Check out VRBO for San Francisco vacation rentals.
Mendocino, California
Explored by Katherine Fenech from Bright Lights of America
The Mendocino and Fort Bragg stretch of California coastline is the perfect weekend getaway from San Francisco. There are so many things to do in Fort Bragg and Mendocino that you'll want to return for more awesome weekend trips.
There are outdoor adventures aplenty – from kayaking in the Pacific Ocean or the Noyo River, to hiking the beautiful trails in Russian Gulch State Park and Jughandle State Natural Reserve. If you've not ridden a railbike with a bestie or other half before, head to the California Western Railroad. Hop on a pedal-powered railway contraption and take yourselves on a tour through the magical redwood forest.
If you prefer to kick back and relax, appoint a designated driver, then check out some of the wineries on the Highway 128 Wine Road. There are 31 to choose from that won't break your budget. Try Yorkville Cellars, Maple Creek Winery, or Foursight Wines for starters.
Don't miss Mendocino Coast Botanical Gardens for some truly Instagram-worthy moments across the 47 acres of blooms, cacti, and sculptures. The gardens butts up to the coastal bluffs, so you can enjoy the rocky California coastline.
It wouldn't be a trip to Mendocino and Fort Bragg without visiting the renowned Glass Beach! Strewn with thousands of pieces of colored glass, this beach is a must-see, just remember not to take the glass home with you.
After a long day's hiking, stop at North Coast Brewing Co. Tap Room for a delicious dinner paired with local beers. If you're looking for something a bit different, try La Playa Mexican Restaurant for dinner. And at breakfast or lunch, you can't go past Egghead's Restaurant – a Wizard of Oz themed spot.
Where to Stay in Mendocino
There are lots of affordable places to stay in Mendocino and Fort Bragg. Try the North Cliff Hotel, Mendocino Hotel & Garden, or camp at one of the state parks if you're budget-conscious.
You can find more Mendocino hotels on Booking.com and see Mendocino vacation rentals on VRBO. For Mendocino Hot Rate Hotel Deals, check out Hotwire.
Mount Shasta, California
Explored by Sumeeta from Sumeeta Seeks
One of the best weekend getaways in the USA is in the Northern California town of Mount Shasta. Only five hours north of San Francisco and just an hour south of Oregon, it's in the perfect location for a weekend escape on the West Coast.
Mount Shasta is filled to the brim with fun things to do including stunning nature, great restaurants, and a vibrant spiritual community. Best of all, it isn't overrun with tourists so you'll feel like you have the place all to yourself!
The region offers great skiing and winter sports during the winter, and in the other seasons, there are a ton of amazing hikes for hiking lovers. Some of the best include hiking from Castle Lake to Heart Lake, hiking to Castle Dome in Castle Crags State Park, and hiking any of the awesome trails on the mountain of Mt. Shasta itself. If you prefer relaxation, you can laze about and swim in gorgeous spots including Mossbrae Falls, Hedge Creek Falls, and Lake Siskiyou.
You can finish up an awesome weekend day in nature with some spirituality and an incredible meal. Be sure to check out the Gateway Peace Garden where you can say a prayer or meditate. Afterwards grab some food at one of the best eateries in town – Seven Suns for vegan fare, Lilys for cafe grub, Crave for Mexican and BBQ, or Bistro No. 107 for burgers and a great selection of microbrews and wines.
In neighboring Dunsmuir, local favorites include Café Maddalena for fine dining and Dunsmuir Brewery Works for local brewery vibes. Mount Shasta is a hidden gem you will be sure to love for your weekend getaway!
Where to Stay in Mt. Shasta
LOGE Mt. Shasta is a hotel-hostel hybrid that features standard hotel rooms, hostel dorms, and camping. There are also great community spaces like an outdoor firepit and a café – perfect if you want to socialize during your trip!
You can find more hotels in Mount Shasta on Booking.com, or find the perfect cozy cabin or chalet on VRBO.
Boise, Idaho
Explored by Christina from Live a Wilder Life
One of the best weekend getaways in the US is the flourishing and underrated city of Boise, Idaho. Boise is in a major growth stage and is one of the fastest-growing cities in the US. This thriving city is a knock-out choice for anyone who wants to enjoy nature with big-city amenities.
One of the best things to do in Boise is rent a bike and travel down the Boise River Greenbelt, a 25-mile path that takes you along the river where you can take a dip in the river, stop at a hip eatery, or take in Pacific Northwest artists at the Boise Art Museum. You'll want to spend time exploring the walkable downtown area where you can visit Freak Alley, the largest outdoor mural gallery in the North West.
For beer lovers, Boise has a happening craft beer scene, so you'll want to take some time to do a Boise brewery tour to get a sample of Boise's best ale. To end the day, take the moderate hike to Table Rock to get amazing views of the city and watch the sunset go down on the "treasure valley."
Where to Stay in Boise
When looking for lodging in Boise, you'll want to stay in Downtown Boise for a central location that doesn't require a rental car. The Hyatt Place Downtown Boise has a walking score of 100 on TripAdvisor and also includes free breakfast! Check out Booking.com for more Boise hotels, or find a Hot Rate Deal on Hotwire.
If you prefer to "live like a local," get a rental home in the North End where you can admire the beautiful craftsman homes but still be close enough to downtown to enjoy the city.
Philadelphia, Pennsylvania
Explored by Debbie Fettback from WorldAdventurists
Philadelphia was the first capital city of the United States and is full of history. With its iconic historical monuments and innovative museums, the City of Brotherly Love is a wonderful weekend getaway.
The Liberty Bell is an iconic symbol of American independence. It is located within the Liberty Bell Center in Independence National Historic Park. No tickets are required but arrive early to avoid the crowds. Visit Independence Hall to see where the Declaration of Independence and the Constitution were debated and signed. Tickets are free for this too, but you must make a reservation.
Turn up the Rocky theme song on your phone and get pumped up as you run up the famous Rocky Steps in front of the Philadelphia Art Museum. Then, learn about notorious criminals at the Eastern State Penitentiary and see where Al Capone and Willie Sutton served time. It is both eerie and fascinating to wander between the walls of this U.S. Historical Landmark.
The Benjamin Franklin Museum explores the legacy of one of Philadelphia's most famous citizens. Furthermore, learn about the lives of early Philadelphians in Elfreth's Alley.
A hop-on-hop-off bus tour is a great way to get to know the city and to have an easy way to find all the major landmarks and attractions. If you want to see it all, don't forget a Philadelphia Sightseeing Pass!
Where to Stay in Philadelphia
DoubleTree by Hilton Philadelphia Center City is right in the heart of Philadelphia. The hotel is near attractions such as the Liberty Bell, Independence Hall, and Reading Terminal Market.
Find more Philadelphia hotels on Booking.com or Hotwire. You can also check for Philadelphia vacation rentals on VRBO.
Baltimore, Maryland
Explored by Pamela from The Directionally Challenged Traveler
Baltimore is nestled comfortably in the middle of the East Coast. It's accessibility makes it a great weekend getaway in the USA.
One of the best things to do in Baltimore is explore the Inner Harbor. It's an icon of the city and is home to a number of attractions. The USS Constellation is a historic ship built in the mid 1800's and used during the Civil War. Explore the numerous museums around the harbor. Get a bite to eat at Miss Shirley's Cafe or Phillips Seafood for some fresh crab!
For incredible boutique shopping, head to Fells Point. This area of Baltimore had residents before America was even a country! Fans of street art can visit the colorful Graffiti Alley for a glimpse into the local culture. You can visit Edgar Allen Poe's house and final resting place near Lexington Market. If you need a break from the city, head to Druid Hill Park for some open space. There's a conservatory and botanical gardens in the park. Keep an eye out for a Druid carved into an old tree as well!
The ease of access and variety of things to do in the area makes Baltimore one of the best weekend getaways in the United States.
Where to Stay in Baltimore
The trendy and affordable Hotel RL Baltimore Inner Harbor is conveniently located near all of the Inner Harbor's top attractions.
Check out Booking.com for more Baltimore hotels, or search Hotwire for incredible last-minute Hot Rate deals.
You can also search Baltimore vacation rentals on VRBO.
St. Petersburg, Florida
Explored by Destiny Snyder from Guided by Destiny
St. Petersburg, Florida has so much to offer. It is truly one of the most special places in Florida. Whether you're looking for white-sand beaches or a lively downtown vibe, St. Pete has got you covered.
If you're wanting to spend some time in the downtown area, make sure to check out what I believe are some of the best things to do in Downtown St. Petersburg – including a brewery and coffee shop hop! There is such a fun, unique selection all within walking distance of each other. 3 Daughters is an amazing brewery that is a huge indoor and outdoor venue with tons of games as well as a nice variety of drink options. You may have a hard time choosing between all of their delicious ciders and beers, but no worries – they offer flights.
When it comes to the foodie scene, the only thing you're going to struggle with is narrowing down which places you have the time to hit. If you're a brunch person, be sure to check out The Library!
Aside from the foodie scene, St. Pete is also rich in art and history. Enjoy noticing all of the fun murals as you wander the streets (or rent a bicycle and see them that way). Aside from Europe, St. Pete houses the largest collection of Salvador Dali's work, so grab some tickets to the Dali Museum while you're here. And of course, don't forget to kick back, relax, and unwind with a fun tropical drink on the white sands of St. Pete Beach.
Where to Stay in St. Petersburg
The stylish and affordable Avalon Hotel is located in downtown St. Pete, perfect for exploring on foot. Rather stay on the beach? Prices are a bit higher here, but the Plaza Beach Hotel has reasonable rates and is located right on the beach. You can also check out VRBO for St. Pete vacation rentals – including beach houses!
You can find more St. Petersburg hotels on Booking.com or Hotwire.
Fort Myers and Sanibel Island, Florida
Explored by Lori from Naples Florida Travel Guide
Situated on the Caloosahatchee River just minutes from Florida's southwest Gulf coast is Fort Myers, Florida and nearby Fort Myers Beach and Sanibel Island, one of the best weekend getaways in the US.
Just a two hour flight from most major east coast and mid-west hubs into the international airport, Fort Myers is a bustling city surrounded by water. Explore the revitalized retro downtown, and grab lunch at the City Tavern, a great bar with live music and pub style food. The nearby Millennial Brewing Co. is a favorite as well.
History buffs will love visiting the Edison and Ford Estates, the winter homes of good friends Thomas Edison and Henry Ford. Fort Myers has great kayaking trails, with rentals that are easy on the wallet. Kayaking at Manatee Park or late afternoon shelling at Bunche Beach all make for a relaxing weekend. Then head to Fort Myers Beach for dinner on the water.
For the best shelling in the area, head to Sanibel Island. Pay to park and the beach and shells are free. Rent a bike and pedal the dedicated bike path from one end of the island to the other. Spend a few hours paddling the mangroves at J.N. "Ding" Darling National Wildlife Refuge.
Grab a bite to eat at The Lazy Flamingo, always a winner for an inexpensive place to eat on Sanibel. And be sure to catch a fiery sunset from Lighthouse Beach on Sanibel or the Fort Myers Beach pier.
Where to Stay in Fort Myers and Sanibel Island
As for where to stay, small beach cottage rentals on Sanibel and Fort Myers Beach are still an inexpensive option for the weekend and are super family friendly.
For hotels, you can find places to stay in Fort Myers or Sanibel Island on Booking.com. You can also check for last-minute Hot Rate deals on Hotwire.
Asheville, North Carolina
Explored by Carrie Mann from Trains, Planes and Tuk Tuks
Asheville, NC is one of the top weekend getaways in the United States. This little mountain town has it all — architecture, an incredible food scene, craft breweries, coffee shops, and of course, the mountains.
With just a weekend in Asheville, spend one day in the city and the other day outside. The top urban things to do include visiting the galleries in the River Arts District and exploring the charming shops downtown. The Biltmore Estate is another option, although the admission price is pretty steep.
On your second day, rent a car and drive the Blue Ridge Parkway. Hike to waterfalls at Graveyard Fields, climb Mount Pisgah, and watch the sunset from Black Balsam Knob. These are just a few of the easy hikes near Asheville you could check out.
Asheville is a foodie city. Don't miss brunch at Sunny Point Cafe – it's 100% worth the line. Taco Billy and Biscuit Head are other good options in the morning, and Summit Coffee is the place to get your caffeine fix. The best barbecue is at 12 Bones Ribs (although Luella's and Buxton Hall are a close second and third). For dinner, Chai Pani is an essential stop. For something a little more special, try Limones or Rhubarb.
Asheville leads the East Coast in breweries per capita. Stroll around the South Slope and stop in for a flight wherever looks appealing. Bhramari and Burial are top-notch. Give Wicked Weed a skip (it's a tourist trap) and try the sours at off-the-beaten-path Twin Leaf instead. If you're up for a drive to East AVL, Highland Brewing is the brewery that started it all – and is still the best in the city.
Where to Stay in Asheville
Downtown Asheville is full of awesome hotels. Aloft Asheville Downtown is perfectly located with mountain views – and it's pet friendly! Parking is available for just $10 a night.
Find more Asheville hotels on Booking.com, or check Hotwire for a last-minute deal.
Prefer a cabin in the mountains or a luxe downtown condo? VRBO has got you covered!
Wilmington, North Carolina
Explored by MacKenzie from Rainbow Travel Life
Wilmington, NC is a great choice for a weekend getaway from many of the surrounding cities like Raleigh or Charlotte. The things to do in Wilmington, NC span from awesome beaches to downtown shops and walks!
The best beach for budget travelers is just 20 minutes from Wilmington proper, Kure Beach. It has free parking and several access points, but it does get busy in the summer! You can also visit the Fort Fisher Recreation Area and historic sites while you are there.
Another inexpensive activity that makes Wilmington a great weekend getaway is exploring New Hanover County Arboretum. Arboretums are fairly common, but the one in Wilmington is unique because of its cute purple and yellow house and sculpture art (like a gnome!) throughout. It feels like you've stepped into a fairy tale when you visit, plus you can enjoy the flowers and plants in bloom.
Lovers of history can also enjoy themselves by exploring the 230-block historic district/downtown. There are three historic houses (the most popular being Bellamy Mansion), a riverwalk, an old cotton exchange turned into a mini-mall, and shops and restaurants aplenty. The Riverwalk is a scenic 1.75-mile stroll, and it was voted 2nd best in America according to USA Today. You can even see the USS North Carolina (open for tours) across the Cape Fear River!
Downtown also features dozens of unique shops like Black Cat Shoppe, Cape Fear Rum Cake, and Old Books on Front. There's also plenty of clothing and souvenir stores if you are into that. For cheap food, visit the college-student staple Island's Fresh Mex Grill downtown. If you want to venture towards the university, Sealevel City Vegan Diner also has reasonable prices and yummy food.
Where to Stay in Wilmington
The Hampton Inn in Downtown Wilmington is perfect if you're wanting to stay within walking distance of the Wilmington Historic District and Riverwalk. Rooms are decently affordable and also include free breakfast.
You can find more Wilmington hotels on Booking.com or find last-minute deals on Hotwire. Prefer a vacation rental or a beach cottage? VRBO has plenty of options in and around Wilmington!
Seaside, Oregon
Explored by Chantelle from Flannels or Flip Flops
Seaside is one of the best stops on the Oregon Coast and makes a fantastic weekend getaway! It the cutest little town, and there is so much to do.
The beach is the first fun thing about Seaside. The beach is wide and sandy. There is even a swing set on the beach! This is a great kite flying beach too.
The little town of Seaside is basically packed into a few streets, so it's easily walkable. There are a ton of cute little shops along the main street. There is also the Carousel Mall which contains laser tag, video games, a few shops, and of course a working carousel.
Another must-do in Seaside is the tiny aquarium where you get to feed the seals. The aquarium isn't too exciting, and is very small, for a few bucks you can buy fish and feed the seals. They are so funny and will act silly to get your fish (they are also well-fed, so they aren't dependent on this food).
However, the most fun you will have in Seaside is to visit Seaside Inverted Experience. It's a blast, and you'll leave with great photo souvenirs to make your Instagram followers jealous! Definitely don't leave town without trying this!
There is no shortage of places to eat and drink in Seaside either! There are fish and chips places, ice cream and candy shops, and bars throughout. Seaside Brewery is a great place for lunch and dinner with awesome drinks! It's an old jail, now brewery. There is also karaoke at Twisted Fish Steakhouse and Sports Lounge which is super fun!
Where to Stay in Seaside
There are many affordable hotels and house rentals in Seaside, and because its so small, there isn't an inconvenient place to stay. You can walk from most anywhere. You can check out all Seaside hotels on Booking.com, or find a rental house on VRBO.
Broken Bow, Oklahoma Weekend Trip
Explored by Monica Champagne from Champagne on Deck
Broken Bow, Oklahoma is a well-loved getaway for any outdoor lover looking to escape to the woods for some quiet time mixed with the small-town charm of trendy restaurants, wine tastings, live music, and sassy boutiques.
There is something for all types of travelers in Broken Bow, Oklahoma. Hike to waterfalls on the Friends Trail, the newest trail to open up in 15 years. Kayak the Mountain Fork River, explore Beavers Bend State Park, or explore the deer-populated woods by horseback or train. Dine in Hochatown at places such as Grateful Head Pizza Oven and Taproom, Froggy Bottom Kitchen, or the Hochatown Saloon. Sip local brew at Beavers Bend Brewery or locally fermented and produced wine at Girls Gone Wine. Shop Trendy boutiques featuring the area's unique personality of glamping sass like Hochatime, Savvy Chix, or Shabby Shack.
Broken Bow is a great destination to visit year-round. If you'd like to partake in water activities, visit in May or June when the temperatures are warm. For lower rates, go in October or November and witness the colorful fall foliage.
Where to Stay in Broken Bow
Beavers Bend State park offers cabin, tent, and RV camping along the shores of beautiful Broken Bow Lake. For a more glamping experience, Broken Bow will more than deliver. Extravagant cabins ranging in all sizes are available for rent on VRBO, such as the Toasted Marshmallow Farmhouse Cabin or the Holder Hill Honeymoon Cabin.
You can find more places to stay in Broken Bow on Booking.com.
Joshua Tree, California
Explored by Katy Shaw from A Rambling Unicorn
Joshua Tree is a fun weekend destination for nature lovers and art lovers alike. While most visitors to the area come to see the National Park, there are lots of interesting things to do near Joshua Tree as well. The small town of Joshua Tree is filled with a surprising number of random art installations, vintage treasures, and quirky sculptures.
The World Famous Crochet Museum is a good example. Located downtown in an old Fotomat Kiosk, the museum is a tiny shrine filled with crocheted animals in every shape, color, and size. For art on a larger scale, the Noah Purifoy Outdoor Desert Museum features 10 acres of impressive sculptures made from junked materials. While you're in town, whet your whistle at the Joshua Tree Saloon or browse through the Joshua Tree Farmers Market to connect with the local community.
Unique attractions abound in the nearby area as well. In the neighboring town of Yucca Valley, Sky Village Swap Meet is filled with 7 acres of outdoor vendors, art, and recycled treasures. Perched on a hillside above town, Desert Christ Park is home to over 40 steel-reinforced concrete statues depicting biblical scenes. For those willing to drive a bit further, Salvation Mountain is a literal man-made mountain covered with thousands of gallons of bright paint and religious sayings.
Where to Stay in Joshua Tree
The best time to visit Joshua Tree is in spring or fall as temperatures soar in the summer months. Since it is near a National Park, however, the lodging can be expensive during these times.
There are 8 excellent campgrounds inside the park, but they fill up fast – make reservations early. Other camping options include wilderness backpacking inside of the park or Bureau of Land Management land outside of the park. Joshua Tree vacation rentals are another good option.
Rather stay in a hotel? You can find hotels near Joshua Tree on Booking.com.
South Lake Tahoe, California Weekend Escape
Explored by Ann Marks from The Unorthodox Traveler
South Lake Tahoe is one of those rare destinations with stunning natural beauty and world-class resorts. The sheer beauty of this alpine lake nestled in the Sierra Nevada Mountains calls to travel and adventure enthusiasts.
Believe it or not, but this lake at over 6,000 in elevation has some outstanding beaches! If you care to sit back and relax, enjoy some beach time while checking out the snow-capped mountains.
The lake straddles the California and Nevada state line. If you are looking for 24/7 entertainment, just cross the street into Nevada! The casinos offer hotel rooms (look for deals online), gambling, entertainment, and restaurants.
Heavenly Village offers something for everyone. The village has over 40 shops, restaurants, and live music. There is also a movie theater, ice-skating (in the winter), and miniature golf to help pass the time.
A genuinely unique activity is to ride the Heavenly Gondola!The 2.4 mile ride to the 10,067 feet summit will leave you speechless! Head to the top of the mountain for picturesque views. Want more to do once you reach the top? Bonus tip-access a series of hiking trails from here. Check out the map of the trails and amenities here.
Emerald Bay State Park offers stunning panoramic views of the granite cliffs, mountains, and lake. If you enjoy history and "castles," then visit the historic Vikingsholm. The mansion was built in 1929 and is a prime example of Scandinavian architecture. The estate is open for tours in the summer months.
Add some unforgettable moments in your life here in South Lake Tahoe!
Where to Stay in South Lake Tahoe
Basecamp Tahoe South is a fun hotel, beer garden, and place to chill. Each room has a California adventure theme. The courtyard is an inviting open space to sit back and relax, enjoy a cold brew, or play a game of corn hole.
You can find more places to stay in South Lake Tahoe on Booking.com or VRBO.
Everglades National Park, Florida
Explored by Victoria from Guide Your Travel
Everglades National Park is the perfect destination for a weekend getaway, especially if you enjoy the great outdoors and getting back in touch with nature. At 1.5 million acres, this national park is huge so there is always plenty to see and do.
Hiking, fishing, camping, boating and water sports are some of the most popular activities for tourists in the Everglades. Of course, a tour on a traditional airboat is an absolute must-do. You might even be able to spot an alligator if you're lucky.
Airboat tours are made for tourists and might not be the right choice for you if you're looking for a more authentic experience. A fantastic option is to go on a kayaking tour instead which will truly help you appreciate the beauty of the Everglades National Park. You'll be able to enter the maze of mangrove forests and spot rare birds. It's a truly memorable experience and especially beautiful at sunrise or sunset.
Where to Stay near Everglades National Park
Miami is a great starting point for a weekend trip to the Everglades but you could also stay in one of the small towns located close to the park. There are a variety of budget hotel options available although one of the cheapest ways to see the park will be to camp at a nearby campsite.
Ivey House Everglades Adventures Hotel is an adorable bed and breakfast located right outside of the national park. You can find more hotels and B&Bs near Everglades National Park on Booking.com.
Vacation rentals are also a great choice when looking for places to stay in the Everglades – find the perfect spot on VRBO.
Acadia National Park, Maine for a Weekend
Explored by Neha from Travel Melodies
One of the best weekend trips on the East Coast of the USA is to Acadia National Park. This park, spread over 47,000 acres by the Atlantic Ocean, boasts, rocky coastline, green forests, iconic lighthouses, and magnificent vistas.
Acadia can be explored by driving along the Park Loop Road, a 27-mile scenic road passing along the major attractions of the park. Some of the attractions include Thunder Hole and Otter Cliff, where the ocean waves crash onto the cliffs and rocks. Sand beach, surrounded by mountains, is another popular spot.
Cadillac Mountain is the best place to get a dazzling view of this beautiful park – especially during sunrise. It does get very windy at the top, make sure to bring a jacket. The summit can be reached by driving or hiking.
Where to Stay near Acadia National Park
There are campgrounds inside the park that are a great way to stay close to the nature, but they need to be booked well in advance.
There are also many hotels near Acadia National Park in Bar Harbor that are a great choice. Bar Harbor, the small town near the park, also has many shops and places to eat. You can see all hotels in Bar Harbor on Booking.com, or search for a vacation rental near the park on VRBO.
---
There are so many amazing weekend getaway destinations in the USA – it's a good thing you have 52 weekends in a year, right? With all of these wonderful places, it'll be hard to narrow it down to one destination.
So, what are you waiting for? Start putting those free weekends to good use by planning your next USA weekend trip!
Where will you go on your next USA weekend trip?
Pin this on Pinterest for future weekend trip planning!