A World in Reach contains affiliate links. If you make a purchase through these links, I may receive a commission at no cost to you! Read my full disclosure here.
If you ask someone from the United States what they think is the most important birthday, most people will say it's your 21st birthday. At 21, you're finally free – while you might be technically an adult at 18, you can legally drink at 21. And what better way to celebrate such a monumental occasion than by taking a trip with your best friends?
If you're planning a getaway for your 21st birthday, you're in the right spot. This list is full of some of the best places to celebrate your 21st birthday, including big cities, relaxed spots, and a few unique destinations as well.
A lot of the destinations in this post are located in the USA – it makes sense to celebrate your 21st birthday in the country where you're finally legal to drink, right? However, I've also included several international destinations on this list as well. I'm always down for an excuse to explore a new country, and what better excuse than celebrating one of your most exciting birthdays? An international trip is great too if you want to celebrate with friends who aren't yet 21 and can't legally drink in the USA.
Keep reading for a list of the coolest places to go for your 21st birthday, and get ready to start planning your trip!
A World in Reach contains affiliate links. If you make a purchase through these links, I may receive a commission at no cost to you! Read my full disclosure here.
Exciting 21st Birthday Destinations in the United States
Savannah, Georgia
I can't think of many places in the United States that are better for celebrating a 21st birthday that beautiful Savannah, Georgia. The city has plenty of fun things to do and a ton of great bars and clubs to celebrate finally being of legal drinking age.
Start your celebration early by day-drinking your way through the streets of Savannah. It's legal to walk around the city with a drink in hand (as long as it's in a plastic container), so grab a delicious frozen daiquiri from Wet Willie's and start exploring. Walk along River Street, stopping in the candy shops (free samples offered) before exploring the rest of the Historic District, home to beautiful antebellum homes, churches, and historic squares. Make your way to Forsyth Park and take some pictures for the 'gram at the park's centerpiece fountain. For a wonderful dinner to celebrate your 21st birthday, make reservations at The Olde Pink House, one of the best places to eat in Savannah. Make sure to try one of their delicious cocktails – the Pink Lady is my favorite!
Savannah is one of the most haunted cities in the country, and a Savannah Haunted Pub Crawl is a great way to begin the night. On this tour, you'll learn all about Savannah's haunted history while visiting some of the city's best pubs. End the night at Savannah Smiles Dueling Pianos, a fun piano bar with great music and affordable drinks.
Find Places to Stay in Savannah: Booking.com // Hotwire // Vacation Rentals
RELATED POST: 3 Days in Savannah, Georgia: Spend a Long Weekend in Savannah
Charleston, South Carolina
Recommended by Lisa from Wanderlust with Lisa
Charleston, South Carolina is the best of both worlds for a 21st birthday celebration – you get a fun-filled city and a beach town all in one!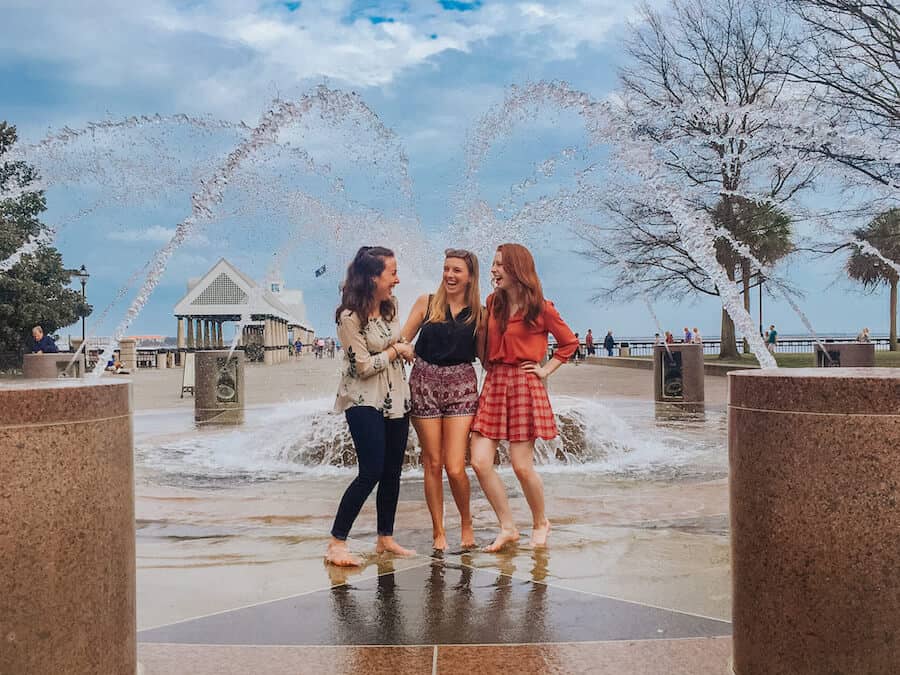 There are so many activities to do in Charleston that will keep your group entertained. Rent a beach house in Folly or Isle of Palms (see Charleston Airbnb options here) and spend a full day relaxing at the beach. On another day, you can take a horse-drawn carriage ride through downtown Charleston, do a food tour of the city, get massages at one of the spas (my favorite is Belmond Charleston), or go shopping on King Street. You can even opt for a Booze Cruise in the harbor! The options are truly endless and range in price points so you can pick what works best for the group.
If you're looking for a night out on the town, check out Mynt, Trio, or The Cocktail Club. If a crazy night at the bar isn't for you, you can take a ghost tour of the city (like this fun "boos and booze" tour) or bar hop to the more swanky spots in the city like Stars. Before ending the trip, be sure to enjoy a rooftop brunch!
PS: If you're celebrating along with your significant other, check out some of the most romantic things to do in Charleston!
Find Places to Stay in Charleston: Hotwire // Booking.com // Vacation Rentals
Key West, Florida
Recommended by Lori Sorrentino from Travlinmad
For a premier destination to celebrate that right of passage of turning 21, there's no US destination quite like Key West, Florida. Getting to Key West is easy — from Miami, it makes a fun road trip destination, but unless this is your first time to Key West, we recommend flying. A lot of airlines offer flight connections, and having a car in Key West can be somewhat of a liability given the shortage of parking spaces.
You're never at a loss for great places to eat in Key West, but Pepe's is great for breakfast and coffee goes without saying — Cuban Coffee Queen is the place to go.
You'll want to be close to Duval Street for a party every night of the week, so stay in Old Town. We recommend Heron House or Simonton Court — both tropical and luxe accommodations are on nearby Simonton Street. Click here for more great places to stay in Key West.
But you're not here to lounge around the pool — you're here to officially break-in your ID. Start the fun doing the Duval Crawl, the DIY pub crawl where you stop for drinks at all the famous watering holes on Duval Street, so pace yourself. Start with the famous Hemingway hangout, Sloppy Joe's Bar, followed by Captain Tony's, Turtle Kraals, and definitely The Green Parrot, one of the oldest bars in Key West. For sunset, head to Mallory Square, but reserve one night at least for a sunset catamaran cruise — a real party with a tropical vibe!
Find Places to Stay in Key West: Hotwire // Booking.com // Vacation Rentals
Las Vegas, Nevada
Recommended by Jessica from Uprooted Traveler
Is there a better place to celebrate such a momentous occasion as your 21st birthday than Las Vegas? From endless gaudy casinos to glittering showgirls and dance clubs that stay open until after dawn, Sin City definitely has you covered for all your 21st birthday needs.
If you're someone with champagne tastes, consider checking out Skybar in the Waldorf Astoria, which offers chill vibes and unarguably the best views of the Strip, followed by a Cirque du Soleil performance.
If you're instead hoping to get a bit rowdier for the big occasion, consider an open bar happy hour in the High Roller, an observation wheel that teeters 550 feet over the Strip. Afterward, hop on over to Omnia at Caesars Palace, with a thumping dance club that hosts the likes of Zedd and Calvin Harris and a rooftop terrace with even more killer views of the chaotic Strip below. If you are more of an active revel rouser, put on your hiking shoes and hit the trails at the nearby stunning Valley of Fire State Park. You can end your day by being launched out of zip line modeled to look like a larger-than-life slot machine and soar through the mesmerizing lights of Fremont Street, where all the Rat Pack-era Vegas casinos are located. No matter how you choose to celebrate your big day, make sure you chase the hair of the dog the following morning with some frozen drinks by the pool – your Vegas celebration won't be complete without it!
Find Places to Stay in Las Vegas: Hotwire // Booking.com // Vacation Rentals
Los Angeles, California
Recommended by Derek and Mike from Robe Trotting
Los Angeles is a fantastic destination for anyone's 21st birthday. The city is known worldwide for glitz and glamour with a flair for nightlife and culture. Los Angeles combines a laid-back lifestyle with an endless list of things to do and see. The city doesn't hold back in any category, so a birthday trip to LA will leave you with stars in your eyes and great memories of a wonderful city.
The best nightlife spots in Los Angeles are also some of the most famous neighborhoods – Hollywood and West Hollywood. While there are all kinds of bars, clubs, live music venues, and restaurants in this area of Los Angeles, one of the coolest places for a birthday is Skybar. It's located on iconic Sunset Boulevard and it's highly recommended to make a reservation. If you visit during the day you can relax at the pool or go for pre-drinks with a view before dinner for a gorgeous sunset.
Los Angeles is also known for beautiful weather almost all year long, so you'll want to visit some beaches as well. One of the most well-known beaches is Santa Monica Beach and the long white sand beaches will hold up to the reputation. Santa Monica also has a fun pier with an amusement park, the only one like it on the West Coast. Santa Monica Beach also has bike trails if you want to enjoy a scenic ride, or you can find other hiking trails. If you want to experience offbeat Los Angeles, you can discover some hidden gems like the abandoned LA Zoo or hike to the Bridge to Nowhere.
Find Places to Stay in Los Angeles: Hotwire // Booking.com // Vacation Rentals
Miami, Florida
Recommended by Derek and Mike from Robe Trotting
Miami is known worldwide for pristine beaches, vibrant culture, a delicious food scene, and some of America's best nightlife. There are so many things to do in Miami, so it's a perfect destination to celebrate your 21st birthday.
If you're considering Miami for the incredible nightlife, head to South Beach. It's the soul of Miami's bar and club scene and one of the best places to celebrate. Check out Mango's Tropical Café for an exciting night out – there you can reserve seating for your birthday entourage and organize entertainment like dinner and salsa lessons. They have nightly entertainment like DJs and cabaret, so you won't be bored at Mango's. This also gives you the chance to bar hop along Ocean Drive, the iconic Miami street that you'll likely recognize from movies. The art deco buildings in the area are beautiful, historic and the perfect backdrop for your night out.
During the day, you can relax on the beach and recuperate from the prior night's parties. Little Havana is another must-see area of the city and perfect for booking a memorable and delicious birthday meal. Walk around Calle Ocho (SW 8th Street) to find the heart of Miami's Cuban community. You can buy Cuban coffee or eat at an authentic café. For another evening activity, you can book a dinner cruise or sunset boat ride. Many also have party packages to help you celebrate your big birthday for a discount.
Staying in South Beach will be your best option for a short walk home from the bars at night. Otherwise, staying in downtown Miami or just north in Miami Beach can give you a better price for your budget. There are even hostels in Miami Beach like Generator Miami which has private and dorm accommodations.
Find Places to Stay in Miami: Hotwire // Booking.com // Vacation Rentals
Nashville, Tennessee
Recommended by Kathrine and Pam from Everywhere Forward
If you're looking to spend your 21st birthday where the bars never close, celebrate your first legal night in Nashville Tennessee! Over the years, Nashville has become a tourism hot spot for those looking to celebrate anything from Bachelorette parties to 21st birthdays to 50th birthdays.
For a full night (or weekend in Nashville!) of boozy fun, explore the many bars along Broadway. Broadway is the heart of country music, so you'll have never-ending access to live country music! Some of the most famous bars in Nashville include Tootsie's Orchid Lounge for its purple walls and famed past and Nudie's Honky Tonk for its longest bar. Along Broadway, you'll see that many of today's famous country artists have their own bars and restaurants. The best part of Broadway is that there isn't a bad place to party and all the bars are within walking distance!
In addition to bar hopping, spend some time touring Nashville's major attractions such as the Grand Ole Opry, the Ryman Auditorium, and Music Row to learn more about the city's music history. If you visit Nashville on the night of a scheduled show, you can see a Grand Ole Opry show live, which is a bucket list experience for avid country music fans!
Nashville can be expensive in terms of traditional accommodations, so a vacation rental is the best way to go! With a group of friends, a very nice vacation rental within an Uber ride distance to Broadway can be affordable. Overall, celebrating your 21st birthday is Nashville is will certainly make for a memorable experience!
Find Places to Stay in Nashville: Hotwire // Booking.com // Nashville Vacation Rentals
New Orleans, Louisiana
Recommended by Lindsey Puls from Have Clothes, Will Travel
New Orleans is a city bubbling with excitement and history at every turn. With some of the most delicious food and drinks in the US, amazing music, and very entertaining nightlife, it's a city that would be perfect to celebrate a 21st birthday!
3 days in New Orleans is a perfect amount of time to get a good feel for the city. You'll be able to see many of the highlights at a relatively relaxed pace. You'll also get to sample many of the amazing bars & restaurants here.
While there certainly isn't a bad place to eat or drink in New Orleans, these are a few interesting bars to check out during your birthday celebrations:
The Carousel Bar & Lounge inside the Hotel Monteleone – the bar is actually a revolving carousel!
Three Muses is a cool jazz bar that makes incredible homemade cocktails. (Their Spaghetti Western made with Bulleit Bourbon, Campari-soaked orange and rosemary syrup is especially delicious.)
Lafitte's Blacksmith Shop Bar has been serving beer and frozen drinks since the 1700s. It is said to be very haunted, so haunted in fact, that they don't bother turning the lights on anymore. The whole bar is lit by candlelight.
It's also A-OK for you to walk the streets of New Orleans with a drink in your hand (as long as it's in a plastic cup). Be sure to grab your favorite beverage and walk down Bourbon Street, people-watch in Jackson Square, and do a little shopping in the French Quarter. Food tours, cocktail tours, tarot card readings, cemetery tours, and haunted history tours are all highly recommend things to do while in NOLA too. (The Haunted History tours are best done at night, and the guides will let you stop to refill your alcoholic drinks along the way.)
If you're planning on enjoying the never-ending nightlife in NOLA, it's best to stay at a hotel right on Bourbon Street. The bars here don't ever have to close, and most will play music until 5 or 6 in the morning. If you're not looking to stay up that late, make sure your hotel room is NOT facing Bourbon Street.
Find the Perfect Place to Stay in New Orleans: Hotwire // Booking.com // Vacation Rentals
New York City
Recommended by Kate Storm from Our Escape Clause
With its mile-long list of bucket list destinations to hit up and its positively infectious environment, New York City is easily one of the best cities in the USA to celebrate your 21st birthday.
On a 21st birthday trip to New York City, fill your days with hitting up the best things to do in NYC, including seeking out views from the top of the Empire State Building or Top of the Rock, strolling through Central Park, visiting one of NYC's iconic museums, walking across the Brooklyn Bridge, and seeking out some of the (many) excellent brunches in the city.
At night, there's no limit to the ways to continue the celebration: depending on your preferences, consider hitting up a Broadway show, checking out a unique part of NYC's nightlife like Sleep No More, attending a comedy show, concert, or TV show taping, or simply going the traditional route and hitting up some of New York's endless bars and clubs (and if you're feeling goofy, maybe wrapping up your night with karaoke in Koreatown).
Whatever you're looking for when celebrating your 21st birthday, there's a New York City itinerary that will complement it: as one of the most dynamic cities on the planet, there is no limit to the amount of celebratory fun that you can seek out on a trip to NYC.
Find the Perfect Place to Stay in New York City: Hotwire // Booking.com // Vacation Rentals
READ MORE: The Ultimate NYC Bucket List
Palm Springs, California
Recommended by Victoria Watts Kennedy from Bridges and Balloons
Palm Springs is an ultimate party destination perfect for celebrating your 21st birthday: think days lazing in the sun, al fresco cocktails, pool parties, and nights on the dance floor in hip and buzzing clubs.
The desert oasis is a go-to destination for hip Angelenos looking to get away from the big city and has become a hotbed for all things hipster, especially hotels. It's home to some of the most hip boutique hotels in the country, including the Ace Hotel and Swim Club, The Saguaro, and Arrive Palm Springs. Any of these hip Palm Springs boutique hotels would be a good choice for somewhere to stay or to simply join one of their famous parties. Pool parties at the Ace and Saguaro are particularly legendary.
Staying at a Palm Springs Airbnb or vacation rental is a good choice for birthday parties and there are plenty to choose from, many with pools, so you can get the party started or keep it going from your own place. Click here to check out some of the best vacation rentals in town.
For a sundowner, head to Soleil Pool & Bar at the Riviera where you can have drinks around fire pits at the poolside. And for clubs, there are plenty of options, including Shanghai Reds and Village Pub. Finally for restaurants, go to Lulu California Bistro, Pinocchio in the Dessert, Rio Azul, and Wilma & Frieda.
Find Places to Stay in Palm Springs: Hotwire // Booking.com // Vacation Rentals
Best Places to Go for Your 21st Birthday: Mexico & The Caribbean
Cozumel, Mexico
Recommended by Jenn and Ed Coleman from Coleman Concierge
Few places in the world rival Cozumel as the best place to spend your 21st birthday. It has all the charm of the Caribbean wrapped in the delights of Mexico.
By day, Cozumel is an adventure lover's playground. ATV tours journey deep into the jungles to one of the largest cenotes in Mexico. Take your thrills to new heights parasailing in the bay, or new depths on a submarine tour of shipwrecks and coral reefs. There are even stealthy surf breaks on the far side of the island.
By night, the town comes to life with delicious food and generous drinks. On any given night, there are bar-hopping tours that follow live performances throughout different venues until the early hours. Remember, what happens in Mexico, stays in Mexico, which is the perfect mantra for a 21st birthday.
No matter what you choose to do on Cozumel, make sure you save room for diving or snorkeling. Cozumel dive sites surround the island offering some of the world's best drift diving through towering coral reefs. If snorkeling is more your speed, the crystal blue bays of El Cielo will welcome you with warm water and enormous starfish.
Cozumel is also one of the most accessible destinations in the Caribbean, with a large international airport on the island and a wide selection of all-inclusive resorts. Transportation around the island can be difficult, so select a hotel aligned with the theme of your visit. If you want nightlife, stay near the city center. If you're interested in diving, choose a dive hotel where your dive boat will pick you up straight from the hotel dock.
Find the Perfect Place to Stay in Cozumel: Hotwire // Booking.com // Vacation Rentals
Havana, Cuba
Recommended by Ayngelina from Bacon is Magic
Cuba is like no other place to visit. While some say it is frozen in time, that's not true at all. Instead, it is a fascinating mix of old and modern coming together. Havana is the perfect Caribbean city if you're looking for an exciting place to go for your 21st birthday.
The best way to start the day in Havana is by renting a classic convertible. The most common color is pink, as it's also the most popular but you can get them in any color at all. You don't need to book in advance. Just head down to Parque Central (Central Park) in Old Havana and there will be a line of drivers. Find the color you want and you can negotiate a bit with the driver.
If you're not sure where to go drivers know all the most common places such as Plaza de la Revolucion. However, a couple of spots worth asking for are El Bosque, a forest on the outskirts of the city, and Fusterlandia, an incredible mosaic artist residency that was inspired by Gaudí and spills over into neighboring homes. Heading back to Old Havana is one of the most popular paladares, or private Havana restaurants, is O'Reilly 304 and its sister restaurant El de Frente. Both are well known for great food and fantastic cocktails. Book a reservation in advance.
READ MORE: 10 Tips for Traveling to Cuba
If visiting on a Thursday through Sunday the best spot to celebrate a birthday is Fabrica de Arte Cubano, which directly translates to Cuban Art Factory. Take a short taxi ride to the Vedado neighbourhood and you'll find a complex that is used as an art gallery, exposition area, and a concert venue that feels like you're in Brooklyn. Each room hosts different music and it is constantly changing so you may have a DJ spinning 90s hip hop one night and modern Cuban music the next.
While Old Havana starts to close down at midnight, bars in Vedado close at 2am or later. Make friends with locals and you're likely to take a cab somewhere in the Playa or Miramar neighbourhood to something open closer to dawn. Or simply head to the malecon sea wall where friends and lovers congregate listening to music and sipping rum until the early hours.
Find the Perfect Place to Stay in Havana: Booking.com
Puerto Rico
Contributed by Martha from Quirky Globetrotter
What better way to spend your 21st birthday than at the birthplace of the piña colada and with some of the most beautiful sandy beaches? There really isn't, which is why Puerto Rico should be at the top of the list for your 21st birthday.
The best way to uncover all the island's gleaming hidden gems is by road tripping through Puerto Rico. If you're strapped on time, San Juan is a cultural hot spot that offers everything from a bustling nightlife scene, beautiful beaches, history, and so many delicious cocktails and mouth-watering foods.
If you're searching for nightlife, La Placita in San Juan is considered nightlife dynamite. La Placita is a neighborhood that is packed with modern eateries and authentic local bars and hangouts. This neighborhood is not a tourist trap; in fact, it's quite the opposite. If you're looking to immerse yourself into Puerto Rico's culture and get close with the locals, this is the spot to head.
The bars all open their doors and invite partiers in with smooth Latin beats and crisp Caribbean lagers. All the bars in La Placita are small and close-knit. Bands are often cornered into the back and surrounded by a mosh pit of couples sashaying and grooving effortlessly. Dancers can even take to the street if they need more room to twirl and show off their moves. Order Puerto Rico's iconic Medalla beer and grab a partner. Don't know how to dance to Latin music? No worries, the locals are more than happy to show you how to salsa or bachata the night away.
Find the Perfect Place to Stay in Puerto Rico: Hotwire // Booking.com // Vacation Rentals
Celebrate Your 21st Birthday in Europe
Antiparos Island, Greece
Recommended by Maria & Katerina from It's All Trip to Me
With pristine beaches, excellent weather, and a unique nightlife scene, there is no better place to celebrate any special occasion than the Greek Islands. Quaint Antiparos Island is situated just a stone's throw from its more popular sister island Paros. Although often overshadowed by Paros, there are many reasons to visit Antiparos Island, especially if you're looking for the perfect place to celebrate your 21st birthday.
Unlike other major nightlife scenes in Greece such as Mykonos or Zante, nightlife in Antiparos is irresistibly authentic, easy-going and, most of all, affordable and accessible to all. The main square in Antiparos, which looks super quiet during the day, comes to life right after sunset. This is the perfect place to grab a first drink or a quick bite before heading to the real star of Antiparos nightlife: the legendary Disco La Luna, which has been going strong since the 1980s.
The decoration, music, and overall ambiance of Disco La Luna scream nostalgia and old-fashioned partying. That said, don't expect to see sad faces of people reminiscing of their long-gone youth there. Disco La Luna attracts young crowds who dance the night away and don't even think of heading back home before the sun is high in the sky.
Another reason why Antiparos is ideal for your 21st birthday celebration is Camping Antiparos, one of the oldest campsites in Greece and the best place to stay on the island. Young crowds from all over the globe flock to Antiparos Camping to meet other people their age, have fun in the sun with them, and, why not, find the love of their lives to the tune of "Total Eclipse of The Heart" at Disco La Luna.
FInd the Perfect Place to Stay in Antiparos: Hotwire / Booking.com // Antiparos Vacation Rentals
Barcelona, Spain
Recommended by Mal from Raw Mal Roams
Barcelona is one of the most awesome cities to celebrate a birthday! There is so much to do here during the day. Check out the city's great beach – Barceloneta, which is situated just a few minutes' walk from La Rambla. Head to the Gothic Quarter and explore its cute, narrow streets that house many interesting shops with local designers selling unique clothes and accessories. Don't forget to pop into La Boqueria for a fresh smoothie. If you more into alcoholic beverages, Barcelona has some great rooftop bars. Check out Ohla Chillout Terrace at Ohla Barcelona and chill by the rooftop pool enjoying the stunning view of the city.
Barcelona has some of the best nightlife and one of the best areas to experience it is Barceloneta. It's an excellent location central to some best restaurants, bars, and clubs including Opium del Mar, Shoko, and Pacha – and, it's right on the most popular beach in Barcelona.
Start the night in one of the chic seafood restaurants with some great sea views. As the night progresses, make your way to Shoko for a casual drink. They've got some outdoor sitting right on the beach, which is heated and covered up in the winter. The vibe is excellent both for couples and groups of friends. At about 11 PM, the clubs start filling with people, and around midnight, you should get ready to hit the dance floor. Check in advance for any special events and themed parties the nightclubs might be holding.
Find the Perfect Place to Stay in Barcelona: Hotwire // Booking.com // Vacation Rentals
Budapest, Hungary
Recommended by Nell from Adventures with Nell
Budapest is the ultimate city for having fun, but without spending a fortune! Nightlife is, of course, an important factor when celebrating a 21st birthday, and Budapest has no shortage of this.
Budapest is famed for its ruin bars – dilapidated pre-war buildings that have been converted into bars and stuffed full of seemingly random objects and furniture. Szimpla Kert is the most famous and features a ceiling of bicycles, a room of old computers and floppy discs, and a large plastic kangaroo. From nightclubs to pop-ups to relaxing spaces, there is a ruin bar to suit any taste!
Click here to book a pub crawl of Budapest's coolest ruin bars and clubs!
Budapest has your hangover covered too, with nine thermal baths in the city, made up of 123 hot springs. These are incredibly relaxing, and help to ease any hangover from Budapest's ruin bars.
If you'd rather carry on the party than relax in the baths, there are parties in the Szechenyi Baths almost every Saturday, and often music festivals too. There's even a thermal beer spa in Budapest, where you can bathe in wooden tubs filled with bubbling mineral water and all-natural beer ingredients, whilst sipping a cold pint!
When you're ready to take a break from the nightlife, there are plenty of cultural things to do in Budapest. Take the funicular up to the Castle District to visit and explore Buda Castle, stroke the statue of Andras Hadrik for good luck, and enjoy a bottle of wine at the top of the Fisherman's Bastion while admiring spectacular views over the city.
Find the Perfect Place to Stay in Budapest: Hotwire // Booking.com // Budapest Vacation Rentals
Croatia
Recommended by Inma from A World to Travel
One of the destinations you should consider for celebrating your 21st birthday would be the always wonderful and popular Croatian islands.
The perfect 21st birthday in Croatia would include the following steps:
First, you would have to gather a group of friends who get along well, because coexistence is required.
Next, you would have to make sure you all have a free week in June or September to avoid the tourist hordes but still enjoy the good temperatures and all the atmosphere and good vibes that Croatia offers in summer. No worries if you're visiting in winter though because Croatia is one of the best places for winter sun in Europe!
Then, you would need to book a sailboat with a skipper to depart from Split, in the middle of the Croatian coast, and to arrive in Dubrovnik, in the south of the country. Between both, the yacht should anchor at islands such as Hvar, Korčula, and Brac depending on the parties and beaches you want to visit and the overall vibe of the trip.
Finally, you would just need to pack your bags (small, since the storage space of the cabins on a sailboat is very scarce) making sure that swimsuits and sunglasses weren't missing and get yourselves to Split to get your adventurous 21st birthday celebration started. Make sure to spend some time exploring Split Old Town!
Dublin, Ireland
Recommended by Cath from Travel Around Ireland
One of the best places to celebrate your 21st birthday is Dublin, the capital of Ireland. The city is extremely welcoming to people of all ages and there are so many things to see and do that fitting it all in will be your biggest problem.
The best way to explore Dublin and find your bearings is to do a walking tour of Dublin. There are both free walking tours and paid tours, taking you to some of the best places in the city. Another great way to explore Dublin while celebrating your 21st would be to hop on one of the sightseeing buses and stop off at both Guinness Storehouse and also the Teeling Distillery, one of the best distilleries to visit in Ireland. Take a tour of both and enjoy a tipple or two at the end of the tour. Make sure to also hop off at places like Trinity College, Christchurch Cathedral, and the Chester Beatty Library at Dublin Castle along the way.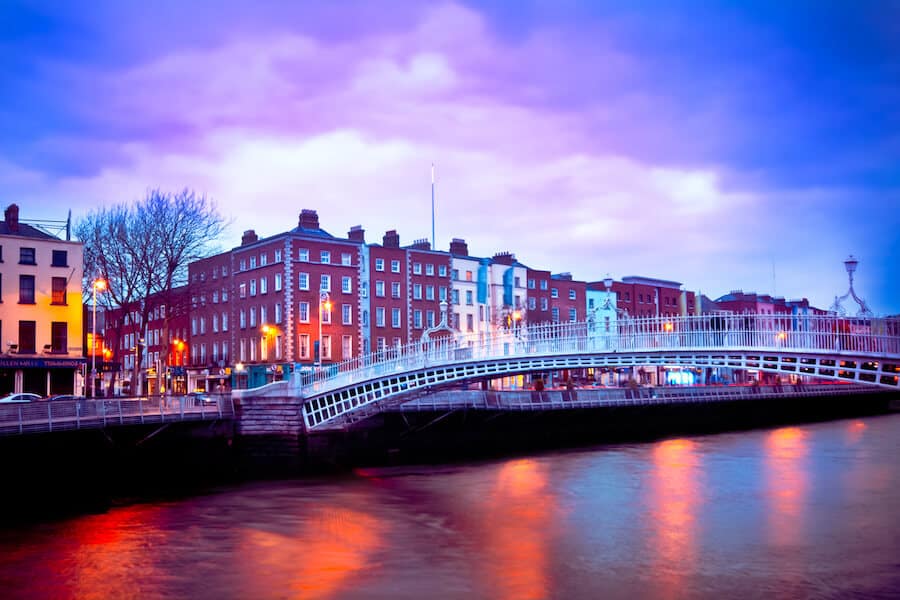 When you are done sightseeing, head for some food at Fallon & Byrne on Exchequer Street, The Landmark on Wexford Street, or The Church on Jervis Street. At both Fallon & Byrne and The Church, you can enjoy cocktails at the bar afterward before heading to Temple Bar for a pub crawl. No 21st celebrated in Dublin would be complete without a pub crawl in Temple Bar. And to finish the night off, you could visit Copper Face Jacks on Harcourt Street to dance the night away, or to Whelan's on Wexford Street where you might be lucky enough to combine live music with a dance in the background to music from a DJ.
Click here to book a Dublin Pub Crawl
And finally, if you are wondering where to stay in Dublin, then choosing accommodation as central as possible with a Dublin 1 or Dublin 2 postcode is preferable, particularly if you want to ensure a short stroll home in the small hours of the morning. Dublin is awash with places to stay to fit all budgets.
Find the Perfect Place to Stay in Dublin: Hotwire // Booking.com // Dublin Vacation Rentals
READ MORE: How to Spend 2 Perfect Days in Dublin, Ireland
Kyiv, Ukraine
Recommended by Iris Veldwijk from Mind of a Hitchhiker

If there was ever a party city for the lowest of budgets, it's Ukraine's capital city Kyiv. The price of a beer has always been near the bottom tier for Europe and the world; a pint will set you back about $1 USD and downward, depending on the exchange rate. The city is offbeat compared to the major European destinations. Even if you're traveling alone, Kyiv is an easy place to make friends in just in time for your birthday.
Besides boozing it up with fellow backpackers at hostels (Kyiv Central Station Hostel is a great option) and pubs (Palata №6), you can also refresh yourself with a glass of non-alcoholic kvass or kompot. Stuff yourself with varenyky (dumplings) and borscht.
Kyiv also has an immensely rich and often tragic history. There are monuments to the Babyn Yar massacre that happened during World War II and, most famously, the catastrophic events at Chernobyl north of the city. Depending on your budget and time, you can take a tour of the exclusion zone.
From golden-domed orthodox churches to concrete-clad Soviet brutalism, Kyiv an excellent place for a young person to discover what they like (and dislike) in a city. Get around cheaply by metro and visit Arsenalna, the world's deepest metro station (105.5m/346ft). The escalator ride down is a wacky experience in and of itself. For the best views, take the funicular uphill to gaze upon the Dnieper river that ties together Ukraine, Belarus, and Russia.
Ukraine is not part of the Schengen Area, so you'll receive a cool passport stamp. You can reach Kyiv by train, bus, or plane quite easily from many European cities. From the United States, there is a direct flight from New York City on Ukraine International Airlines. When flying out of Kyiv, make sure to double-check that you have the right airport. Kyiv has two of them!
Find the Perfect Place to Stay in Kyiv: Hotwire // Booking.com // Vacation Rentals
Liverpool, England
Recommended by Rachel Ong
Liverpool is the third-largest city located in Northern England by the famous Mersey River. It is known for its vibrant nightlife and rich culture and history. Here are just a few things anyone can do to have a wonderful 21st birthday here in Scouser territory.
Pier Head: Located right in front of the famous Mersey River, Pier Head is the most documented tourist attraction in Liverpool. It boasts famous architecture such as The Three Graces, The Beatles Statute, as well as the Museum of Liverpool and occasionally some funfairs. It has great views both in the day and at night.
Royal Albert Dock: This gem in the heart of Liverpool is a must-visit for every tourist. It is home to many famous museums, pubs, and cafes. A must-see for Beatles fans is The Beatles Story.
Lane7 Liverpool: Lane7 Liverpool is the ultimate location to celebrate a 21st birthday. It offers various activities including bowling, karaoke, golf, all-night dancing, and more while offering drinks as well. Look no further for an all-inclusive, fun night here with a group of friends!
Ride the Famous Mersey River Discovery Ferry: Every tourist should ride the famous Mersey River Discovery Ferry to not only get a better view of the landscape of Liverpool but also explore the parts of Birkenhead, just right across the river.
Find the Perfect Place to Stay in Liverpool: Hotwire // Booking.com // Liverpool Vacation Rentals
Munich, Germany
Recommended by Nisha from Nerdy Footsteps

Munich is a good destination for every occasion but it is a perfect place for celebrating 21st birthday. Being an amazing international city that it is, Munich offers something for everyone. Be it the party people, history enthusiasts, or the chilled out travelers, you will find something for your taste.
Known for the best beer in the world, Munich makes for a perfect party destination. For amazing quality cocktails, visit the Barroom, a small cozy bar that might feel exclusive. Das Labor, on the other hand, is known for its fun parties themed around science laboratories.
Apart from the fun nightlife, Munich offers a lot to those curious about the cultural and historical aspects of the city. Be it the Instagram-worthy Old Town or the numerous museums, you will find something interesting to do. For those who prefer a chilled out afternoon or evening with friends, English Garden provides a large lush green space for picnics and swimming/surfing in the Isar. Yes, surfing, in the middle of the city. How cool is that?! And yes, there are beer gardens in the English Garden as well.
For food lovers, Munich won't disappoint either. For traditional German food, try one of the many Augustiners in the city. For those who don't fancy schnitzel and other German delicacies, there are many delightful international options. Consider taking a food tour of Munich to experience some of the city's best eats.
Munich is an overall wonderful destination and deserves to be in your bucket list, especially for your 21st birthday! Use this detailed guide to plan your trip to Munich, including what to do, where to eat, and many budget tips.
Find the Perfect Place to Stay in Munich: Hotwire // Booking.com // Munich Vacation Rentals
Paris, France
Recommended by Elisa from World in Paris
Paris is always a good idea and also can be the perfect place to celebrate a 21st birthday – plan a trip to Paris to spend such a special day!
Book a great hotel, ideally a hotel with an Eiffel Tower view. It is not going to be cheap, but a 21st birthday celebration is a once in a lifetime thing! Most of these hotels come with a rooftop bar to enjoy the views, and your favorite cocktail will be waiting for you there. Click here to find the perfect place to stay in Paris.
After a good Parisian breakfast, it's a shopping day because birthday celebrations usually come with a present or two. Depending on your style (and budget) you can head to the Golden Triangle, Galeries Lafayette, or Le Marais, just be sure to look around to get the Parisian style! On the way, stop at Ladurée for a more than deserved birthday box of macarons.
In the afternoon, head to La Villette to sail an electric boat along the canals with your friends. Be sure to pack some wine, tapas, and of course champagne – you can decide to be either the boat captain or take care of pouring the champagne.
After sunset, head to Le Marais or Saint-Germain – both places are full of cool bars and restaurants where they will know how to treat you and your friends well. You can call beforehand to arrange a birthday cake with candles at the end of the meal.
Finally, head to the banks of the Seine River for the last drinks. On both sides of the river, there are barges with trendy rooftop bars to drink cocktails and dance. Enjoy life, love, and admire the Eiffel Tower and all the most beautiful buildings lit up at night.
Find the Perfect Place to Stay in Paris: Hotwire // Booking.com // Paris Vacation Rentals
Prague, Czech Republic
Recommended by Veronika Primm from Travel Geekery
Prague is vibrant day in and day out making it an ideal place to celebrate your 21st birthday!
If you like beer, the Czech capital offers a wide array of local beer brands – and on the cheap! But non-beer-drinkers fret not, high-quality wine (both Czech and international) as well as a developed cocktail scene will make anyone happy and tipsy.
If visiting Prague in summer, you can spend a whole day out having fun – from hopping on a paddleboat on the Vltava River to enjoying coffee, beer, or any booze in one of Prague's many beer gardens. Střelecký Ostrov is an ideal little island to hang out and have fun at, and on Saturdays, the whole Náplavka riverfront features open-air bars and markets.
Once it gets late, head out to Dlouhá Street, which offers a great selection of good bars and nightclubs. Harley's is great and Roxy has a long history of organizing underground music parties. Other cool nightclubs include Radost FX for mostly R&B music, Nebe with its 3 venues for pop music parties, and the traditional Lucerna Music Bar for 80's and 90's disco parties. One of the most famous clubs in Prague – the 5-storey Karlovy Lázně just off the Charles Bridge, features different music on every level but is a place that makes locals cringe. Click here to book a Prague pub crawl to visit some of the city's best bars.
Find the Perfect Place to Stay in Prague: Hotwire // Booking.com // Prague Vacation Rentals
Tromsø, Norway
Recommended by Alexx Hayward from Finding Alexx
Tromsø is a youthful town in the Arctic Circle, and with the Northern Lights in winter, mountain hikes in summer, and more pubs per capita than any other Norwegian town, there's plenty to do to fill any 21st birthday Tromsø itinerary.
If you're traveling there between September to early April, you'll be ideally timed to hit the Northern Lights season. From mid-November to mid-January you're in even more luck if seeing the Aurora is at the top of your bucket list since the sun doesn't rise above the horizon. Your best bet for seeing this magical phenomenon is to jump on a Northern Lights tour, where professional guides can drive you to the spots with the highest chance of catching them. You'll also get super warm snowsuits, and many of them provide either tripods or professional photos, or both! When you're not searching for the lights in the middle of the night, other winter adventures to add to your Norway bucket list include snowmobiling, husky sledding, or visiting a traditional Sami reindeer farm.
For summertime birthdays, Tromsø's fjords provide some incredible opportunities for hiking and road-tripping, with stunning mountain scenes as well as sandy beaches if you're keen for a refreshing dip. Tromsø benefits from 24-hour sunlight in the middle of summer, so you get way more bang for your buck in terms of exploring!
After you're all tired out from outdoor activities, it's gotta be time for a pint. Tromsø's local student scene has helped transform the city into a craft beer hot spot, with local brews are sold in most pubs, but Ølhallen is known as one of the best in town so head there for your first 21st drink.
Tromsø is definitely on the expensive end of places to visit, but the scenery, good vibes, and epic outdoor adventures are well worth the money.
Find the Perfect Place to Stay in Tromsø: Hotwire // Booking.com // Vacation Rentals
Places in Asia & Australia to Celebrate Your 21st Birthday
Bangkok, Thailand
Recommended by Ania from The Travelling Twins
Your 21st birthday is a reason to celebrate in style with either a big party or a great trip, so consider visiting Bangkok – a place that has something for everyone.
How you celebrate your 21st birthday in Bangkok depends on how much money you want to spend on it. You can do it cheaper but still fun by going on a crazy night out in Khao San Road having endless drinks, dancing at the clubs, or seeing the famous Calypso Cabaret show. If you have some money to spare you should visit the best sky bar in Bangkok – Vertigo Grill & Moon Bar. Sipping a cocktail while looking down at the chaos of Bangkok is a special feeling. And after a delicious meal and another cocktail, you can still hit Khao San Road. If partying is not your thing, you can spend a day sightseeing at all of the temples and cultural attractions around Bangkok, and take a dinner cruise in the evening.
Bangkok has something for everyone, and choosing this city to celebrate your 21st birthday will be one of the best decisions you ever make, whether you're a party person or a culture geek.
Find the Perfect Place to Stay in Bangkok: Hotwire // Booking.com // Bangkok Vacation Rentals
Hoi An, Vietnam
Recommended by Delilah from Our Travel Mix
Hoi An is an awesome choice for a vacation destination to spend your 21st birthday. For first-timers visiting Hoi An, the best place to stay is in the heart of the Old Town. This puts visitors within walking distance to an array of attractions, including the best food and drink in town. Since Hoi An is a tourist hot spot, there are many hotels in Hoi An Old Town to choose from.
For budget travelers, check out the Tribee Hostels. They offer free rum and coke, as well as free spring roll-making classes, street food tours, and bicycle tours to the rice fields. For those wanting a relaxing stay by the beach, a resort on Cua Dai Beach is the place to be.
There are four Tribee Hostels in Hoi An: Tribee Kinh, Tribee Cotu, Tribee Ede, and Tribee Bana
As far as activities go in Hoi An, the list goes on and on. Explore this charming town filled with mango yellow buildings, French colonial architecture, and Chinese-style lanterns. Make sure to tour the Marble Mountains in the neighboring town of Da Nang. Half-day tours are available from Hoi An to these incredible limestone karsts. Shop for Vietnam souvenirs including affordable clothing and accessories. You can even get perfectly-fitted clothing for a fraction of the price that it would cost back home!
When the sun goes down, the city comes to life. Lanterns and the Bridge of Lights become brightly lit. Across the bridge is where you'll find the best nightlife. There are pubs along the water serving the best cao lau noodles, a Hoi An specialty. That street also holds some of the infamous Hoi An Bars. Tiger Bar is by far the most popular place to be for young people at night, and there's also Mr. Bean Bar which is always a laugh.
Find the Perfect Place to Stay in Hoi An: Hotwire // Booking.com // Vacation Rentals
Taipei, Taiwan
Recommended by Wayne Dang from The Traveling Asian
One of the best places to celebrate your 21st birthday is Taipei, Taiwan, an island filled with bustling life, tasty foods, and a culture rooted deep in history. You can literally find almost anything you want in this city. Whether you want to go shopping for clothes, stroll through night markets eating yummy foods, visit historical museums, or even go on scenic hikes, Taipei has it all.
Some fun things you can do during the day include going to Taipei 101, the tallest building in the country (formerly the world), If you like history, you can visit the National Palace Museum which holds thousands of ancient artifacts from the Qing and Ming Dynasties. Want some movie inspirations? Head on over to Jiufen, the area that inspired the famous Studio Ghibli movie "Spirited Away".
If you are looking for things to do at night to celebrate your 21st birthday, there are many clubs around Taipei with Omni Nightclub being one of the best. If you like bars, you can always visit Roxy Rocker, which has all the drinks you can ever want. But the best place for you to be at nighttime is definitely the night markets here in Taipei. Shilin Night Market is the most famous as it consists of many vendors selling all kinds of delicious foods as well as items to sell. If you are in the mood to eat, then I would highly suggest you visit Din Tai Fung as they are famous for making some of the tastiest dumplings you'll ever find.
Overall, there are tons of things for you to see and do in Taipei. You will definitely not regret choosing it as your 21st birthday destination!
Find the Perfect Place to Stay in Taipei: Hotwire // Booking.com // Taipei Vacation Rentals
Sydney, Australia
Recommended by Cassie from Cassie the Hag
There are a vast amount of ways to celebrate a 21st birthday in Sydney, depending on your personality – but let's begin with something classic. Start at a trendy brunch spot, such as The Grounds or Cuppa Flower before spending the afternoon relaxing on Bondi Beach or enjoying the Bondi to Coogee Coastal Walk. You could also go swimming in an ocean rock pool.
Now, let's move on to the more adventurous options. You could climb the Sydney Harbour Bridge, try surfing, kayaking, or go even go scuba-diving at Old Man's Hat. For outdoorsy types, there are numerous coastal walks around Sydney such as the Spit Bridge to Manly walk. Manly itself has a beautiful long beach, snorkeling off of Shelly Beach, and lots of great restaurants. The Manly ferry back to Sydney CBD is also gorgeous in its own right.
In the evening, there are numerous bars and restaurants to choose from. My suggestion has to be Opera Bar, which is perfectly nestled between the Sydney Opera House and Sydney Harbour Bridge and one of the most photogenic places in Sydney. After this, you could head to the Opera House to watch a show or enjoy Sydney's nightlife. Head to a historical pub in The Rocks such as The Glenmore, find a rooftop bar, or go dancing at The Ivy, a popular multi-floor club with dance floors, cocktail bars, and even a pool club.
Find the Perfect Place to Stay in Sydney: Hotwire // Booking.com // Sydney Vacation Rentals
Other Cool Places to Celebrate Your 21st Birthday
Spend Your 21st Birthday on a Cruise
Recommended by Jenni Fielding from Cruise Mummy
A cruise is a fantastic place to celebrate a 21st birthday. Choose a modern ship with a fun cruise line such as Carnival, Norwegian Cruise Line, or Royal Caribbean and you'll find so much to do on-board that you won't want to leave the ship.
By day you can race down water slides, along zip lines, or even round a go-kart track at sea. You'll never be short of something to do. Once the evening arrives, you can enjoy a fantastic four-course meal, or just head for burgers and fries – it's your call. Watch a Broadway-style show, hit up the casino, and then it's on to the bars, nightclub, or silent disco. With so many drinking venues to choose from, you can enjoy a full bar crawl, yet remain within staggering distance of your bed!
Most cruise ships offer unlimited drinks packages. Pay a flat daily fee and you can drink all day and night, should you wish. If you plan on turning 21 while on-board, it's important to check with your cruise line to make sure that you can enjoy the alcoholic drinks package from the day of your birthday, as policies on this vary. If you wish to celebrate your birthday on a cruise with friends who haven't yet turned 21, then a cruise in Europe would be recommended as the legal drinking age for cruises in this part of the world is 18.
---
Your 21st birthday is a special event, so you'll definitely want to find a special way to celebrate. Exploring a new city in the United States or elsewhere in the world with a group of your best friends is a great way to have a 21st birthday celebration that you'll never forget.
How did you celebrate your 21st birthday?
Planning your 21st birthday getaway? Pin this post on Pinterest to save it for later!